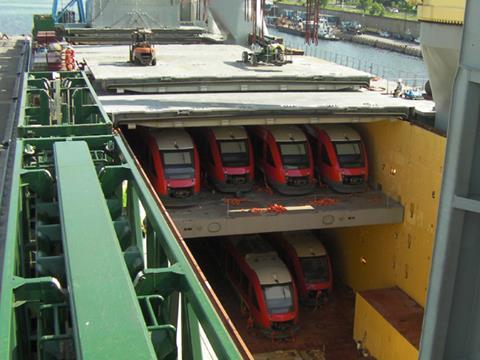 CANADA: Mayor of Ottawa Jim Watson formally took delivery of six Alstom Coradia Lint 41 diesel multiple-units for the city's O-Train service at the 8 km line's Walkley depot on June 22.
Operator OC Transpo placed the C$34m order for the DMUs in September 2011 as part of the C$59m O-Train Service Expansion Project. This includes the provision of passing loops and signalling upgrades designed to increase capacity, reduce headways and ensure that the route can meet future demand.
Alstom said the new DMUs are the first it has supplied to Canada, and the first from its Coradia range delivered to the North American market. They have a capacity of 250 passengers and are expected to offer lower emissions, better fuel economy and shorter stopping distances than the three Bombardier Talent VT643 DMUs used since O-Train was launched in 2001.
O-Train services are currently replaced by buses during modernisation works, with reopening scheduled for September 3. Following testing, commissioning and staff training, the Alstom DMUs are expected to enter service in 2014.
'The O-Train has been an incredible success story for the city,' said Councillor Diane Deans. 'Since 2001, it has carried more than 21 million riders, and the current expansion project will enable the O-Train to carry even more passengers, more frequently and in greater comfort.'