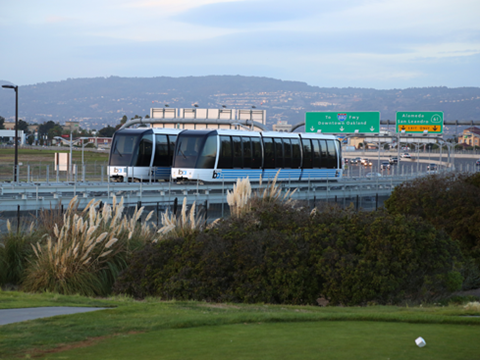 USA: The 'BART to OAK' peoplemover linking Oakland International Airport with Coliseum BART station was officially inaugurated with a day of free rides on November 21. Regular passenger services starting the following day.
The 5·2 km cable-hauled automated peoplemover runs on a mostly elevated alignment, with some at-grade and underground sections. There is a maintenance facility close to Doolittle Drive, between the termini. Construction started in 2010 and cost $484m. A joint venture of Flatiron and Parsons was lead contractor; Doppelmayr Cable Car has supplied four three-car automated peoplemovers and is responsible for operations and maintenance.
A 50 km/h operational speed gives an end-to-end journey time of 8 min. Services run every 5 min between 08.00 and 20.00, with 10 to 20 min headways at other times. The opening of the peoplemover coincides with the withdrawal of the AirBART bus service.