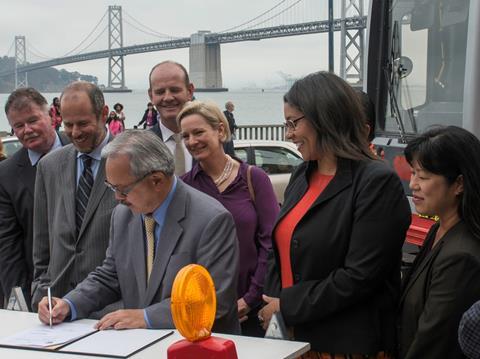 USA: On September 19 Siemens announced that it had been awarded a $648m contract by San Francisco Municipal Transportation Agency to supply an initial 175 light rail vehicles. With an option for an additional 85 cars, this is the 'largest LRV contract ever awarded in the USA to Siemens', according to the rolling stock manufacturer.
'This order marks a milestone for Siemens in the history of our US business', said Jochen Eickholt, CEO of Siemens Rail Systems. 'With our rail vehicles made in the USA, we're already the leading provider and have delivered more than 1 300 streetcars and light rail cars in 17 cities across North America'.
Deliveries from the Siemens plant in Sacramento, California, are due to commence by the end of 2016. From the three designs proposed, SFMTA is to make its final choice 'following public input'.
Based on the Siemens S200, the LRVs for the San Francisco Muni network will feature 'a lightweight drive system that recuperates braking energy'. LED interior lighting will consume up to 40% less current that standard neon.
'These new Siemens vehicles will make our city's public transportation system more reliable, easier to maintain and ready to meet the demands of a growing city', said San Francisco Mayor Edwin Lee. SFMTA Director of Transportation Ed Reiskin added that the new fleet would bring 'a once-in-a-generation improvement' for Muni passengers. 'Compared to our current LRV fleet, these new Siemens vehicles will last 10 times longer before significant maintenance is required', he said.