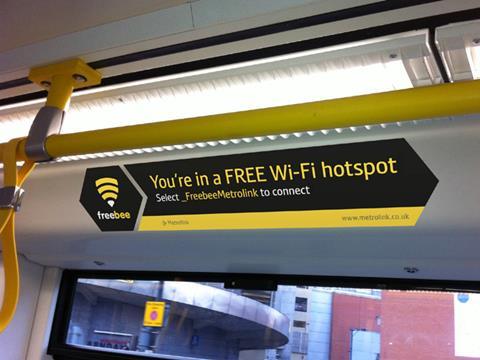 UK: Transport for Greater Manchester has begun providing free wi-fi on a Metrolink light rail vehicle in a trial which could lead to the entire fleet being equipped. The equipment has been supplied Icomera.
Tram 3054 has been specially branded for the trial. 'Passengers can help us try out the technology by logging on and giving us their feedback on how well it works', said Councillor Andrew Fender, Chair of the TfGM Committee. 'We live in a digital age and people want to make the best use of their travelling time, and if this test goes well we hope to have funding available to roll out wi-fi to all trams.'
Funding to extend wi-fi to all Metrolink trams was secured from the government's Urban Transport Fund following bids from Manchester and Salford city councils. Manchester City Council is rolling out free wi-fi across the city centre, with the majority of tram stops and transport hubs to be covered.