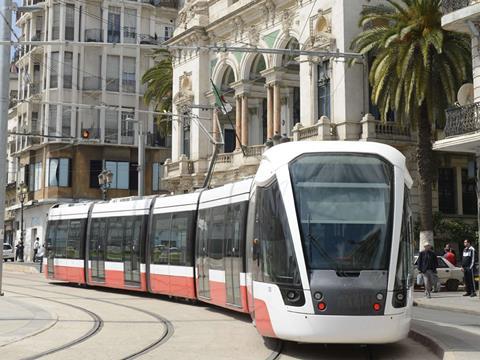 ALGERIA: Transport Minister Amar Tou and Wali of Oran Abdelmalek Boudiaf attended the inauguration of the Oran tramway on May 1, and the 18·7 km line with 32 stops opened to the public the following day.
Services run from 05.00 to 23.00, and ridership is expected to reach 90 000 passengers/day.
The line was built by the Tramnour consortium of Alstom Transport and Spanish partner Isolux Corsan under a €355m turnkey contract awarded by Métro d'Alger in November 2007.
Alstom's €148m share of the contract included the supply of signalling and telecoms, depot equipment, substations and 30 Citadis trams assembled at its Barcelona plant. Isolux Corsán was responsible for civil engineering, track and electrification. The partners had previously worked together on light rail projects in Barcelona and on the Spanish high speed rail network. Construction was formally launched in December 2008.
The line is operated and maintained under a 10-year contract by the Setram joint venture of RATP Dev (49%) and local partners Entreprise du Métro d'Alger (30%) and Etablissement Public de Transport Urbain et Suburbain d'Alger (21%).
Setram has recruited 650 employees who were trained locally by RATP Group. The joint venture also operates trams in Alger, and will manage an 8 km line in Constantine which is scheduled open this year.