As the first of Amtrak's fleet of high-speed trainsets for the Washington DC - New York - Boston corridor prepares to start test running at Pueblo, infrastructure upgrading is in full swing along the route.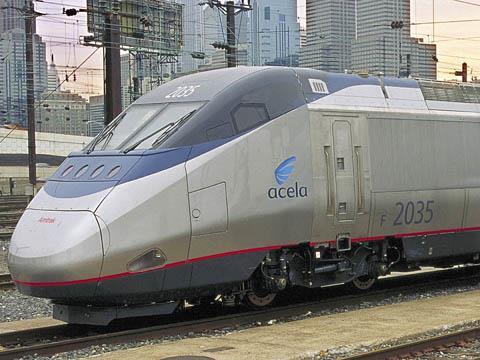 On March 9 US national passenger operator Amtrak formally unveiled the new branding for its Northeast Corridor services at a news conference in New York City. The image is built around the name Acela, an artificial word created by consultants to conjure up visions of acceleration and excellence.
'We know we have a product here that will absolutely knock the socks off the competition', said Amtrak President George Warrington. 'Only Amtrak's Acela will provide a very special journey for customers who will travel downtown to downtown.' Fares will be about 20% higher than the current Metroliners but 25% less than air. The trains are due to start running between Boston, New York and Washington DC by the end of this year.
As part of the launch, Amtrak showed a video of the 240 km/h electric trains, formerly known as American Flyer but now called Acela Express. One segment depicted computer-generated images of the trains gliding along a scenic right-of-way while another showed the real thing rolling out of the snow-covered Bombardier assembly plant in Plattsburg, NY. None was available at the presentation; the first of the 20 trainsets was said to be en route to the TTC Inc test track at Pueblo, Colorado, for commissioning trials.
Acela may well determine the future of Amtrak and whether its national network will survive into the new millennium. As part of a $2·2bn settlement, Congress has imposed a new management structure on the National Rail Passenger Corp and an oversight Reform Board with a remit of getting Amtrak into profit by 2002 or winding it up.
Critical to Amtrak's success is the busy NEC, which hosts an intensive mix of short-haul services and overlapping long-distance trains. Amtrak and its predecessors have been successfully operating conventional electric passenger trains between New York and Washington at up to 200 km/h for decades. Rail now carries 16% of all trips between the two cities (compared with 25% by air). Amtrak is aiming to increase its share to 19%, and is forecasting it will earn $180m in profits from Acela during its first full year of operation, both of which are critical to reaching its objective of self-sufficiency.
In addition, a long-sought goal has been to extend high speed service to Boston. Electrification ended at New Haven, and diesel power could not maintain high speed service. With a time-consuming locomotive change and an extremely curvaceous portion of line, the current fastest timings are about 4h 45min, which can be matched by road. But with electrification north of New Haven nearing completion, that is about to change.
Acela Express will finally achieve some of the objectives of the 1960s Metroliner programme, harnessing technology proven in Europe over the last two decades.
Upgrading strategy
Everything about the turnkey project is a break with tradition, from the trains to the financing. Amtrak initially went to work on a long-term improvement project costed at US$1·7bn to raise standards on the entire NEC, using massive doses of federal funding. This was shepherded through Congress by friendly politicians, many of them representing districts along the Corridor. In line with Amtrak's long-range plan to wean itself off public subsidy by 2002, Congress was assured that substantial capital investment in the NEC was part of the cure for Amtrak's chronic dependency on the public purse.
The first phases of the upgrading enabled speeds on the New York - Washington portion to be increased to 217 km/h in the early 1990s.This was followed by the start of work on the northern section, including the 25 kV 60Hz electrification from New Haven to Boston, the first main-line railway electrification in the USA for 60 years. Five new sets of high speed crossovers, four overtaking loops, 265 km of continuous-welded rail and 360000 sleepers are being installed. Some of the worst curves have been eliminated, most level crossings closed, and the signalling is being upgraded.
But it became obvious that a whole new concept in premium rolling stock would be needed, if a sufficient number of passengers were to be attracted to earn a profit. With the success of TGV, X2000 and ICE in Europe, Amtrak looked eastward for solutions. Both X2000 and ICE were tested in regular service on the NEC during 1992 and 1993 with great success. The favourable public reaction to their speed, comfort and amenities, especially from business travellers, convinced Amtrak that this was the right concept.
However, it was imperative that the trains have a US accent and be built in America, given they were to be operated by a quasi-government company subsidised by the taxpayers. In addition, since Amtrak didn't have money to finance the deal, a public-private partnership was essential. Thus began a long and difficult procedure to design a high speed train for the NEC.
Three consortia submitted bids, and on March 15 1996, after four years of exhaustive deliberation, Amtrak chose the partnership of Bombardier Transportation and GEC Alsthom (now Alstom) to build the new trains. The three-part contract called for the supply of 18 trainsets (since increased to 20) and 15 high horsepower, 200 km/h locos to replace the last of Amtrak's ageing E60 Co-Cos that haul long-distance trains on the NEC.
The third requirement was construction of three maintenance depots to service both the trainsets and the locos. The total cost will be about $825m, with both short and long-term debt financed largely through private capital arranged by the consortium. Amtrak is providing more than $150m towards site preparation for the depots and some trainset costs.
William Lochte, Vice President of Marketing & Business Development for Bombardier Transportation, described the project as 'one of the most sophisticated and challenging procurement processes we've ever been involved with.' He explained that what began as a performance specification eventually evolved into a very detailed technical specification, which was complicated by other issues such as price, financing and delivery schedules. Amtrak's vision, he said, was 'to try to maximise all of the European high speed rail experience and bring it to North America.' The final trains will clearly have a European and Canadian heritage.
It was apparent that a tilting design would be needed if Boston - New York timings were to be competitive with the airlines and the private car, due to the number of curves that would remain despite all the infrastructure improvements.
However, the 3h New York - Boston schedule won't be achieved until after 2000, because Metro North Railroad is currently undertaking extensive infrastructure and catenary rehabilitation on its portion of the line between New Rochelle and New Haven.
South of New York, the line speed limit will remain at 217 km/h, as the variable tension catenary cannot handle higher speeds on a regular basis. Nevertheless, Amtrak expects the new trains to shave 15 min off its 3h New York - Washington schedules, mainly due to higher curving speeds with tilt. Some expresses could cover the 361 km in 2h30min.
Design by development
Although mechanically derived from Alstom's proven TGV technology, the train is basically all-new. 'We're essentially developing this trainset as we move forward, so it's quite a challenge', said Lochte. Bombardier and Alstom have produced a 301-seat design with a 4600 kW, three-system power car at each end and six stainless steel coaches: one first class, four standard and a bistro.
The luxurious interiors will be equipped with advanced climate control, ergonomically-designed seats and thick insulation against exterior noise. There will be at-seat audio entertainment, power outlets for computers, public telephones and fax machines. The bistro will feature up-scale menu selections, a definite improvement over Amtrak's conventional fast food. The tilt will ensure passenger comfort even though the trains will be taking curves up to 50% faster than conventional rolling stock.
Safety has been given first priority, a point emphasised by Amtrak following the ICE disaster at Eschede. To meet higher US buffing load standards, the structure of the coaches adjacent to the power cars has been strengthened as part of what Bombardier calls 'crash energy management'. A fixed coupling transmits impact forces into the coach's unoccupied areas, helping to absorb a collision. 'That in itself is going to make this train really unique to America', explained Lochte. 'Picture an accordion shape and what we do is we produce a bit of a protective cell around the passenger component.'
In other areas, primarily the traction package and running gear, Alstom's proven components were a clear choice . 'We've tried to take the very best of their technology', explained Lochte. 'For example, the propulsion system will be TGV-based. The bogies, which are very sophisticated, will be based on the successful TGV history. Much of the braking - we've got regenerative, rheostatic and friction braking - is a bit of a lesson learned from the TGV. So we're taking these very sophisticated ... components from our French partner and integrating them into a brand new design.'
The state-of-the-art tilt system is indirectly based on that developed for the Canadian LRC train about 30 years ago. 'What we did there is we basically took a hydraulically-controlled tilt system and put it into 21st century technology,' said Lochte. We 'took all the good work of the LRC tilt and integrated it with microprocessor controls', triggered by a sensor on the nose of the power car. A prototype installed on an existing VIA Rail Canada LRC car has been operating successfully since early 1997.
The coach bodyshells are being fabricated at Bombardier's La Pocatière plant in Québec, with final assembly at the company's factory at Barre, Vermont. Part of Bombardier's Plattsburg, New York facility has been dedicated to the power cars and locomotives.
Maintenance package
Lochte described the maintenance contract as 'rather profound, too, because Amtrak has been on the leading edge of ... life-cycle cost. They were very, very articulate in their demands to quote life-cycle cost with the bid.' Lochte said this was a significant change for Bombardier, as with traditional procurement the company had balanced the cost of supplying the best components with the need to submit a competitive bid. 'What's unique about this project is we have to do what we said, and we have to make sure that these trainsets are serviced through Amtrak's labour but in a way to support the life cycle estimates that we projected.'
Under the 10-year maintenance agreement 'we will go in and provide management services, and oversight to their union workforce', he explained. 'We guarantee very high levels of performance on the equipment.' The three new maintenance bases are located within existing Amtrak depots, at Southampton in Boston, Ivy City in Washington, and a two-track complex in New York's Sunnyside yard where the heavy overhauls will be performed.
The project's financing was as unique as the trains' design. 'We really consider ourselves somewhat of a partner in this enterprise because we helped through our own balance sheet and private facility lending', said Lochte. 'We basically arranged the money for Amtrak to buy the equipment. We will transfer title to Amtrak, who will then transfer it to a lending institution from which they got their long-term loans. We had to be as persuasive in arranging the loans as we were in winning the job', contends Lochte, noting that Bombardier's financial involvement ends once they deliver the trains.
The new era of high speed trains will provide Amtrak with the opportunity to prove it can be competitive, fulfil its promise of becoming self-sustaining, and be the travel mode of choice in the Northeast Corridor.
Acela Express specifications
Performance
Gauge mm 1435
Maximum speed km/h 241 (150 miles/h)
Service braking distance m 3170
Emergency braking distance m 2695
Minimum horizontal curve radius m 76
Minimum vertical curve radius m 610
State-of-the-art computer network provides systems and sub-systems monitoring and diagnosis throughout the train.
Power Car (2 per trainset)
Stainless steel bodyshell with built-in crash absorption meeting latest FRA design standards.
Length over couplers mm 21219
Width mm 3175
Height top of rail to top of body mm 4318
GTO inverter controls with forced ventilation. Four asynchronous bogie-suspended traction motors with fully-suspended gearboxes.
Continuous rating per power car kW 4600
Starting tractive effort kN 220 kN
Traction supplies 25 kV 60Hz,
12·5 kV 60Hz and 11 kV 25Hz
Bogie wheelbase mm 2845
Wheel diameter mm 1016
Outboard bearing bogies with fabricated frames. Helicoil spring primary and secondary suspensions. Blended regenerative rheostatic and disc friction brakes, the latter with cheek disc and tread brakes on each wheel. Microprocessor-controlled wheel slide protection.
Coaches (5 + Bistro)
Train seating capacity: first class 41
coach class 260
Stainless steel bodyshells with crash absorption features in end vehicles adjacent to the power cars. Plug doors designed for high-platform boarding.
Floor height above rail mm 1295
Electrical system (3-phase) 480V 60Hz
Length over drawbar faces mm 26645
Width over side sheets mm 3162
Height top of rail to top of body mm 4232
Bogie wheelbase mm 3000
Wheel diameter mm 914
Outboard bearing bogies with fabricated frames. Tread brakes and three disc brakes on each axle. Redundant microprocessor-controlled wheel slide protection and non-rotating axle detection. Computer controlled and hydraulically activated tilt system.
Passenger features: Two roof-mounted self-contained heating, ventilation and air-conditioning systems, supplemented by floor heaters. At-seat audio entertainment plus video in the bistro; audio and visual information; computer power outlets at each seat; public telephones. Fully meets provisions of the Americans with Disabilities Act 1990.