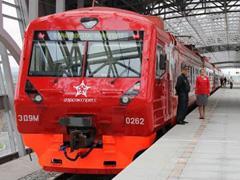 RUSSIA: Airport rail link operator Aeroexpress has announced plans to cease operations in Vladivostok and Kazan and instead focus on its Moscow services, saying the regional governments have not provided subsidies needed to cover its losses.
'We are currently working through the best way to transfer the entire service to local operators', said Chief Operating Officer Alexey Sorokin on January 19. He added that the 'current macroeconomic situation' and a 100-fold increase in the cost of using railway infrastructure from January 5 had forced the company to cease its activities in Kazan and Vladivostok.
The Vladivostok airport rail link opened in July 2012 to support the APEC summit, followed by Kazan in May 2013 to serve the Summer Universiade. Aeroexpress said it recorded losses of 130m roubles in Vladivostok and 62m roubles in Kazan during 2014. The local government in Kazan has only covered half of the losses, while Vladivostok has not provided any subsidy.