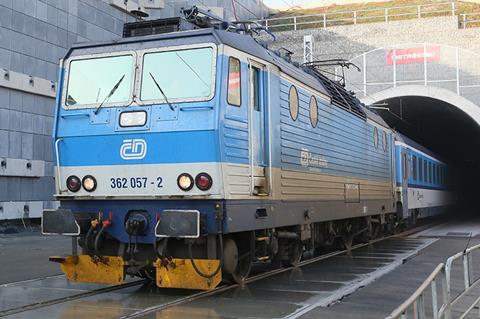 CZECH REPUBLIC: Arriva Vlaky has been awarded a seven-year contract to operate PSO-supported inter-regional services on routes R14A and R14B from Liberec to Pardubice and Ústí nad Labem with effect from December 13.
The Ministry of Transport announced on October 5 that Arriva's bid was KC302m lower than that of incumbent ČD. The DB subsidiary will receive a total of KC1·24bn, or KC176m per year, equivalent to KC98·9 per train-km.
Meanwhile, ČD has retained the operation of fast trains on route R27 from Olomouc to Ostrava via Krnov and Opava. The ministry has agreed to pay KC232m for a two-year contract, representing a 15% increase on the current rate.
For the Liberec routes the new operator has just 2½ months to mobilise ahead of the transfer, but Arriva has guaranteed that it will have sufficient staff and rolling stock to take over the services. It is considering the acquisition of new vehicles during the course of the seven-year contract, but will initially deploy 15 modernised Class 845 two-car DMUs displaced from other routes; these are expected to operate mostly in pairs. It will also recruit 60 new employees.
This should avoid the problems which arose in December 2019, when Arriva faced strong criticism from the ministry and the wider public after failing to ensure a smooth transfer of services on four other lines. Routes R21 Praha – Tanvald, R22 Kolín – Nový Bor, R24 Praha – Rakovník and R26 Praha – Písek – České Budějovice were among the first long-distance services to be tendered by the ministry, along with R8 Brno – Bohumín which was awarded to RegioJet. Route R25 Plzeň – Most has been operated by GW Train Regio since December 2016 under a 10-year contract.
At present, the ministry directly assigns the contracts for operation of PSO-supported inter-regional services following a market consultation. Prior to making a direct award, the ministry is obliged to evaluate the ČD bid against any proposals made by alternative operators, although the incumbent gets the contract automatically if no other bids are received. Under the Fourth Railway Package it will become mandatory to invite public tenders for all services after 2023.
The Ministry of Transport has allocated more than KC400m to reimburse train operators which run services under PSO contracts, as compensation for the reduction in traffic experienced during the coronavirus lockdown in the early part of 2020.