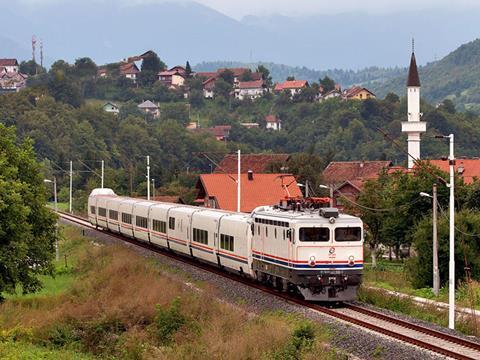 BOSNIA: Railways of the Federation of Bosnia & Herzegovina launched revenue services with a Talgo trainset between Sarajevo and Doboj on September 26, five years after the nine trainsets were delivered from Spain.
ŽFBH and Talgo signed a contract for the nine-car trainsets in July 2005, backed by a €67·7m loan from the Spanish government. They were delivered in 2011, and since then they have been stored at Rajlovac depot in Sarajevo. Five of the trainsets are fitted out for daytime use with 201 second and 26 first class seats, and four are equipped for overnight services.
The initial service is branded as BH voz. It leaves Sarajevo at 16.28 and arrives at Doboj at 19.35, with the return journey departing 03.49 and arriving in the capital at 06.53. The train calls at Maglaj, Zavidovići, Žepče, Zenica, Kakanj and Visoko. The service is expected to be extended south to Mostar and Čapljina from early 2017, and will run through to the Croatian port of Ploče during the summer.
An extension of the Talgo service north to Banja Luka is envisaged, along with use on the Bihać line where a €1·1m rehabilitation project is planned. An international train to Zagreb is also proposed.