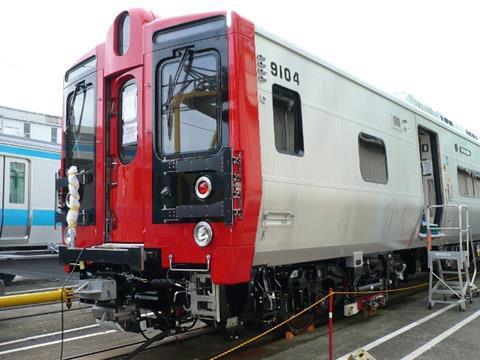 USA: The state of Connecticut has exercised an option for another 42 M-8 commuter EMU cars from Kawasaki Rail Car Inc, bringing the total order to 342 vehicles costing $860m.

The announcement was made by outgoing Governor Jodi Rell on November 15, when she and a group of Department of Transportation officials made a test run on the first set of M-8s from New Haven to Fairfield.

'Five years ago I laid out a vision for remaking Connecticut's commuter rail system', said Rell before the trip. 'The centrepiece of that proposal was a new fleet of rail cars for Metro-North's New Haven Line. Since the first M-8s arrived last Christmas, much has been done to ready these cars for service. For commuters, the wait is nearly over.'

Transportation Commissioner Jeffrey Parker said 12 vehicles would enter revenue service during the first week of December; 22 had been received by mid-November. 'The M-8 … is the most complex rail car in the United States, utilising both DC third rail and AC overhead catenary propulsion systems', he claimed.

The interiors incorporate many new passenger amenities including 110 V power sockets and four-seat rows, safety features including the latest federal crashworthiness construction and energy-saving features such as regenerative braking. The M-8s will be phased in as testing is completed, replacing a fleet that was delivered in the mid-1970s.