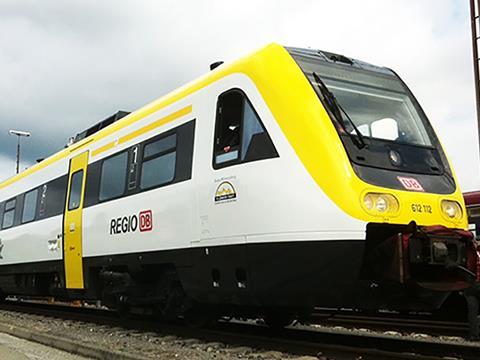 GERMANY: The Land of Baden-Württemberg has awarded incumbent and sole bidder DB ZugBusRegionalverkehr Alb Bodensee the Netz 5 Donau-Ostalb passenger operating contract which runs for 10 years from the December 2016 timetable change.
The current subsidy of €11·69 per train-km will decrease to €10·20 in the first year and then to €9·90. Confirming the DB Regio subsidiary as the winner of the contract on March 4, Land Transport Minister Winfried Herman said the cost reflected the requirement to use Adtranz Class 612 tilting diesel multiple-units, which will be refurbished with wheelchair lifts, space for up to 18 bicycles, free wi-fi and Land branding.
The contract covers five routes:
Ulm – Aalen;

Ulm – Sigmaringen – Neustadt (Schwarzwald);
Rottweil – Neustadt (Schwarzwald);
Ulm – Friedrichshafen – Singen – Basel;
Stuttgart – Tübingen –Aulendorf/Rottenburg.
Services are to be increased by around 10% to a total of 6·7 million train-km/year, with current gaps in the timetables off-peak and at weekends being filled. There are options for the individual routes to be separated out from the contract as planned electrification works progress.