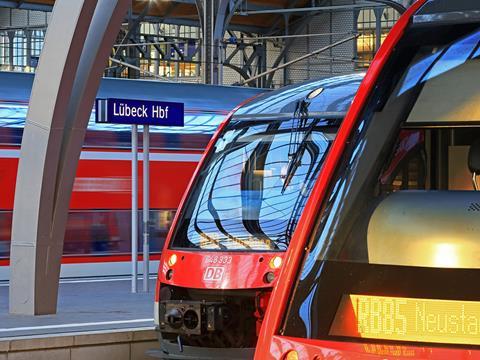 GERMANY: The Land of Schleswig-Holstein has awarded sole bidder DB Regio the Elektronetz Ost passenger operating contract. Running from December 2022 to December 2035, the contract covers services RB86 Lübeck – Travemünde, RE8/80 Lübeck Hbf – Hamburg Hbf and RB85 Lübeck Hbf – Puttgarden, a total of 175 route-km.
There will be an increase in services, with a half-hourly service between Lübeck and Hamburg from 05.00 to midnight on weekdays and until 23.00 on weekends.
Transport authority NAH.SH said advantageous prices for rolling stock had enabled it to specify an increase in services. An order for 18 Stadler KISS double-deck EMUs is planned, which would operate in pairs between Lübeck and Hamburg on a pilot basis from June 2022 ahead of full introduction from December 2022.
The Puttgarden to Neustadt (Holst) line will be closed for an extended period to allow construction of the Fehmarn Belt tunnel, and a high-quality replacement bus service is planned with six new double-deck coaches offering wheelchair access, luggage space, toilets, power sockets and bicycle racks.
Services between Neustadt and Lübeck will be operated using DMUs until electrification is completed, when the regional express services from Hamburg to Lübeck will be extended to Neustadt.