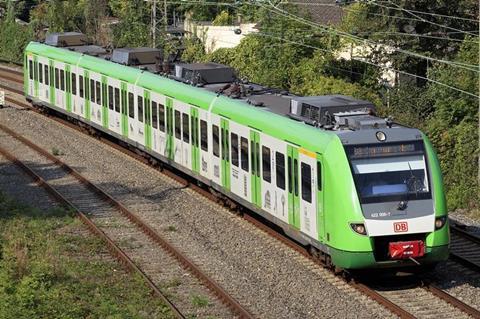 GERMANY: Rhein-Ruhr transport authority VRR and its Westfalen Lippe counterpart NWL have selected DB Regio as preferred bidder for a retendered contract to operate S-Bahn Rhein-Ruhr services S1 Dortmund – Solingen and S4 Lütgendortmund – Unna.
The contract covering 4·9 million train-km/ year is due to run for 10 years from December 2021.
It replaces a contract which had been awarded to Keolis in July 2016 and was due to run for 12 years from December 15 2019. In September 2019 VRR said mobilisation discussions had revealed that Keolis only had half the number of drivers which would be needed to provide a reliable service, and it was unrealistic to think that it could qualify 60 to 80 more by December. As a result, the authority terminated the contract 12 weeks before the planned handover date, and awarded incumbent DB Regio a two-year emergency contract to ensure continuity of service while a new tendering process was run.
Keolis was unhappy with the decision, but an out-of-court settlement with undisclosed terms was agreed with VRR in December.
DB Regio's new operating contract includes stricter performance requirements, with incentives based on customer satisfaction and stronger penalties for self-inflicted cancellations. The operator is obliged to train over 50 new drivers during the contract, and all evening and half of daytime trains will be required to have onboard customer service staff.
The services will continue to be operated using modernised Alstom/Bombardier Class 422 EMUs which VRR bought from DB Regio in 2015 so that it could make them available to its selected operator.