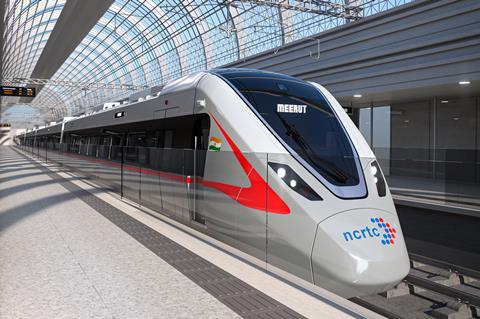 INDIA: National Capital Region Transport Corp has awarded Deutsche Bahn International Operations a 12-year contract to operate and maintain the future 82 km Delhi – Ghaziabad – Meerut Regional Rapid Transit System.
The Delhi area commuter rail project promoter said it had taken a 'path-breaking step' by entering into the 'first-of-its-kind agreement' with the subsidiary of the German national railway group.
'RRTS is a capital-intensive project, where long-term sustainability is paramount without compromising the safety and comfort of commuters', said NCRTC Managing Director Vinay Kumar Singh on July 1.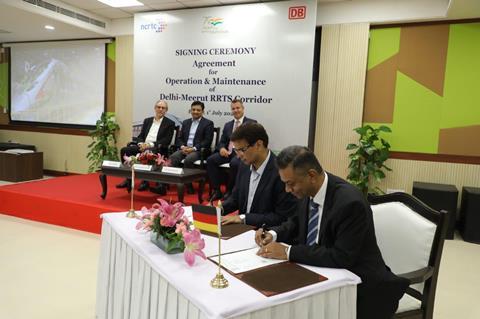 He said DB's 'expertise and experience' in 'tech-driven operations and predictive maintenance' would be combined with the 'advanced technology' adopted by NCRTC to provide predictable long-term costs, managerial efficiency and an 'entrepreneurial spirit'.
Singh added that he 'truly believed that this pioneering initiative by NCRTC will lead to a paradigm shift in the entire sector and will make the sector cost effective and competitive'.
DB said the contract is worth more than €100m over 12 years. It is the second contract for a major international passenger transport project that DB IO has won this year, following on from the 25-year contract for Toronto's GO Expansion programme which was awarded to the ONxpress Transportation Partners consortium including DB IO.
'We are successfully exporting German railway and climate protection expertise', said Niko Warbanoff, Chairman of the management board of DB IO's parent company DB Engineering & Consulting. 'And through a transfer of technology and knowledge, we are also adding a great deal of value for rail in Germany.'
Warbanoff said the project would 'help foster an Indo-German partnership for green urban mobility' and 'enable us to actively support sustainable urban development and help alleviate traffic congestion in one of the world's largest metropolitan areas, with a population of more than 46 million'.