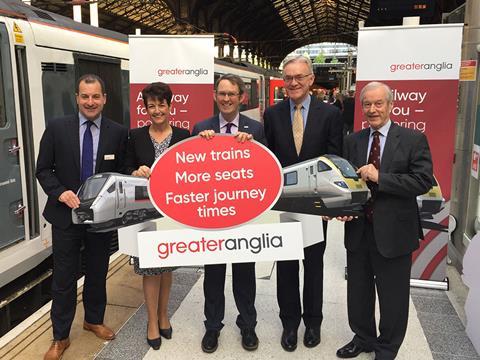 UK: 'This is a deliberately ambitious franchise', insisted Rail Minister Paul Maynard, speaking at London Liverpool Street station on October 17 to mark the launch of Abellio's nine year contract to operate the East Anglia franchise. 'We are using the franchise system to deliver a step change in quality'.
Abellio UK Managing Director Dominic Booth said that having run the franchise for the past four years under short-term contracts, Abellio had recognised the need for sustained long-term investment. He welcomed the 'clear vote of confidence' from the Department for Transport in backing Abellio's Greater Anglia bid, which he believed would be 'transformational'. Both Maynard and Booth paid tribute to the efforts of local authority-led task forces, which had convinced the government of the wider economic benefits offered by a more ambitious franchise at a time of rapidly growing demand.
Booth said £1·4bn was being invested in 1 043 new multiple-unit vehicles, which would enable Greater Anglia to replace its complete fleet by 2020. This would allow a 13% increase in the number of services operated each week. Greater Anglia would be providing 32 000 extra seats into London in the morning peak, an increase of 55% over current levels. £60m is to be invested in station enhancements, and another £14m in staff training and development.
Abellio bid director Vince Lucas told Railway Gazette that 'the franchise targets are challenging', but achievable. The fleet renewal would provide both revenue growth and cost savings to support the committed £3·7bn of premium payments.
Service improvements are to be phased in over the next three years. May 2017 will see the entry into service of 18 four-car Class 321 EMUs being displaced from Great Northern by Siemens Class 700s. This would provide some extra capacity for West Anglia services and release existing trains for a £23m refurbishment programme. Twice-daily 'Norwich in 90' inter-city trains are also due to begin running at off-peak times.
Delivery of Bombardier Aventra EMUs for commuter services and Stadler Flirt units for inter-city and regional workings will allow extra services to be introduced from May 2019, ahead of a completely new timetable to be launched in December of that year. The last of the existing trains will be released by the end of 2020.
Highlights of the new service pattern include three trains/h between London and Norwich, with 90 min journey times to be offered in the peaks. There will be through trains from London to Lowestoft and Norwich to Stansted Airport operated by Stadler electro-diesel units, as well as an hourly Colchester - Ipswich - Ely - Peterborough service.
The new trains are to be maintained by Bombardier at Ilford and Stadler in Norwich, taking over the existing depots. Abellio is to build a new stabling and light maintenance facility at Manningtree which will incorporate an underfloor wheel lathe for use by both fleets.
Greater Anglia Managing Director Jamie Burles said Abellio had agreed an 'accord' with Network Rail's Anglia Route to deliver the infrastructure enhancements needed to accommodate the new fleet. Franchise insiders believed that the enhanced timetable was deliverable with no additional infrastructure works beyond those already underway, such as the Crossrail works and overhead line renewals between London and Chelmsford.
Despite the increased service level and shorter journey times, the operator and infrastructure manager are expected to improve overall punctuality from 89% today to 93% by the end of the franchise period.