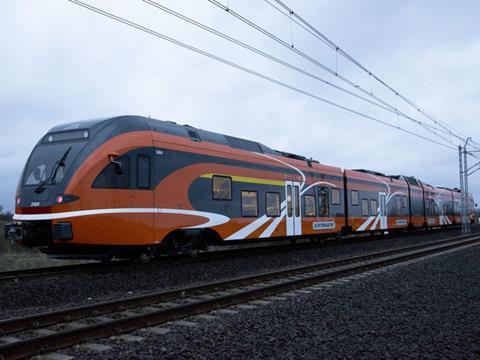 ESTONIA: The first diesel version of Stadler Rail's Flirt family of multiple-units was unveiled by Tallinn passenger operator Elektriraudtee on December 13.
Elektriraudtee signed two contracts with Stadler for new trains in August 2010. An order for 12 three-car and six four-car electric multiple-units is worth €80m, of which 85% is being met from EU cohesion funds. A separate €96m contract covers six two-car, eight three-car and six four-car DMUs, financed through a lease agreement.
Elektriraudtee currently operates the electric suburban network around Tallinn, but from 2014 is to provide passenger services nationally. At the unveiling ceremony, Chairman Kaida Kauler said the new trainsets are intended 'to make travelling by train a backbone of the Estonian public transportation system'.
The approvals process will now begin with the aim of putting the first EMU into passenger traffic on June 28 2013. The DMUs are expected to begin entering service from January 1 2014, with the last in service six months later.
The 1 520 mm gauge units with a top speed of 160 km/h are designed for Estonia's harsh weather conditions, using expertise Stadler has gained from deliveries of Sm5 EMUs to Finland's VR.
The DMUs for regional services have their engines and generators housed in separate mid-train power modules, similar to Stadler's GTW family. This is intended to minimise noise and vibration in the passenger saloons.
The 3·3 kV DC electric units will offer acceleration of 1·2 m/s2, which Stadler claims is 'a remarkable value in this train segment'. With lightweight aluminium bodies and regenerative braking capability, they are expected to offer lower operating costs than the existing fleet dating back to the 1960s.
The units have cabs designed to improve working conditions for the drivers, and are suitable for single-person operation. There are wide doors for rapid passenger flow, and onboard facilities include a passenger information system, air-condition, free wireless internet access, power sockets, CCTV, accessible toilet and multipurpose areas for wheelchairs, prams and bicycles.