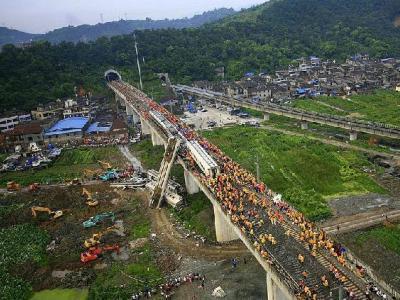 CHINA: Up to 43 passengers are reported to have been killed and over 200 injured following a rear-end collision between two high speed trains at Shuangyu near Wenzhou on July 23. The world's first fatal train accident on a dedicated high speed line took place on the 250 km/h coastal route between Ningbo and Fuzhou after operations were disrupted by severe weather.
A 16-car CRH1B EMU working train D3115 between Hangzhou and Fuzhou had apparently been brought to a stand by a lightning strike. As it was moving off around 20 min later, it was hit from the rear by Beijing – Fuzhou train D301, operated by a 16-car CRH2E. Six cars were derailed, of which four fell off the 20 m high viaduct. According to the Ministry of Railways, there were 1 072 passengers on board D3115 and 558 on D301.
Minister of Railways Sheng Guangzu has demanded a full investigation into the accident, following a visit to the site. Three senior officials at the Shanghai Railway Bureau have been dismissed, and the wreckage of the trains has already been cleared away.
What happened at Wenzhou? Read the Editor's Blog in our Community section.