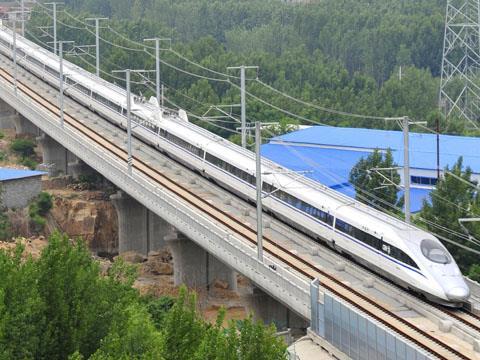 CHINA: The world's longest high speed line was inaugurated with simultaneous departures from Beijing and Shanghai at 15.00 on June 30, as part of events marking the 90th anniversary of the Chinese Communist Party.
Construction of the Beijing - Shanghai Passenger-Dedicated Line officially began on April 18 2008, and the 1 318 km route has been completed in less than 3½ years at a cost of 220·9bn yuan.
It doubles rail passenger capacity between the two cities, releasing capacity on conventional routes for freight, and the Ministry of Railways hopes the line will carry 80 million passengers per year. The fastest end-to-end journey time will be under 5 h, and airlines are expected to watch demand carefully with up to a quarter of their traffic predicted to shift to rail.
According to the ministry, construction has used twice as much concrete as the Three Gorges dam, and 120 times the amount of steel in the Beijing National Stadium. There are 244 bridges and 22 tunnels built to standardised designs, and the route is monitored by 321 seismic, 167 windspeed and 50 rainfall sensors.
The alignment is designed for 350 km/h operation, but the ministry has determined that trains will be limited to two speeds, 300 km/h and 250 km/h. Denying suggestions that this is due to safety concerns, He Huawu, Chief Engineer at MoR, stressed that 350 km/h operation has proved successful in China.
However, 300 km/h running on the Beijing - Shanghai PDL will increase capacity and lower operating costs, allowing lower fares to be offered and a wider range of rolling stock to be used; 63 daily 300 km/h services will use CSR CRH380A/AL and CNR CRH380B trainsets and 27 slower services will be operated with CSR CRH2 and CNR CRH5 sets.
Raising speeds in the future would depend on how traffic develops.
Full coverage will appear in the August 2011 issue of Railway Gazette International