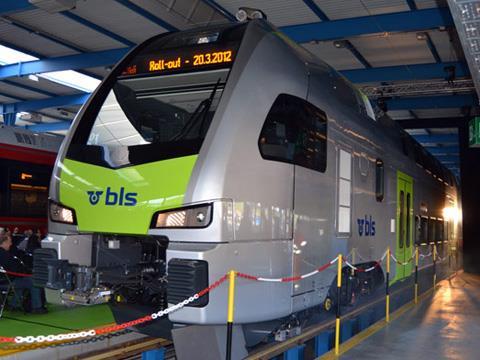 SWITZERLAND: The first of 28 Stadler Rail KISS double-deck electric multiple-units ordered by BLS was unveiled on March 20 by Bernard Guillelmon, Chief Executive of Switzerland's second largest railway company.
BLS placed its SFr494m first order for double-deck stock in March 2010 with the aim of providing up to 30% more seating capacity on Bern S-Bahn commuter routes.
The four-car 15 kV EMUs are being produced at Stadler Rail's Altenrhein site, and the first will undergo testing in eastern Switzerland before being handed over to BLS for in-service trials on route S31 from September. The fleet is expected to enter regular service on routes S1, S3, S31 and S6 from December to the end of 2014.
The EMUs offer 335 seats, including 61 in first class, with standing room for 110 passengers. They have low-floor entry with sliding steps, air-conditioning, underfloor and wall heating, audiovisual passenger information, CCTV, two toilets, one of which is accessible for wheelchair users, wheelchair spaces in both classes and power sockets in first class. Top speed is 160 km/h.
'In just nine months, we have developed the vehicles to meet the most stringent fire safety and crash test standards required for transit through the Lötschberg Base Tunnel', said Stadler Rail owner and CEO Peter Spuhler. 'I am very pleased that BLS will now be using our trains in and around the capital.'
BLS is planning rolling stock investments totalling around SFr1·2bn by 2025, as part of a long-term strategy to standardise its fleet on fewer types of train.