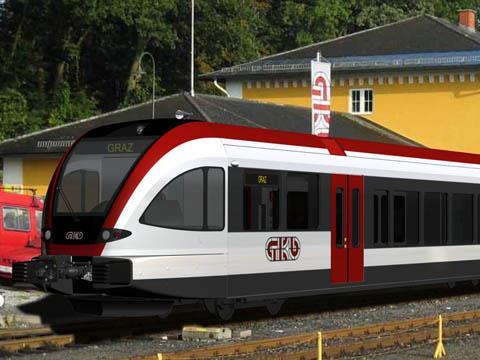 AUSTRIA: Graz-Köflacher Bahn placed a €50m order for 13 Stadler GTW 2/8 diesel multiple-units on February 20. Deliveries will run from the second half of 2010 to the end of 2011. The Land of Steiermark is meeting 25% of the cost of the three-section DMUs, which will be deployed on services from Graz to Köflach and Eibiswald.
Stadler said it has now sold a total of 453 GTW multiple-units in 10 countries. The 75% low-floor units for GKB will be from the fourth generation of the family, and will have 141 fixed and 13 folding seats, air-conditioning and retention toilets.
Peter Jenelten, Stadler's Executive Vice-President of Marketing & Sales, said this is the fourth contract the Swiss-based company has won in Austria in around a year, following from orders for 45 trams for the city of Graz, and rack locomotives for the Schneeberg and Schafberg railways.