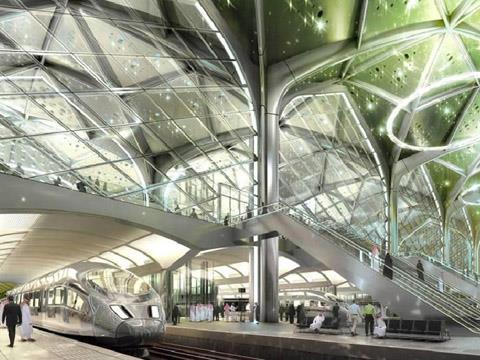 SAUDI ARABIA: Contracts have been signed for construction of four of the five stations for the Haramain High Speed Rail project, Saudi Railways Organization announced on February 16.
The contracts form Package 2 of Phase 1 of the HHR project. Saudi Bin Laden Group is to build the stations at Makkah (3·18bn riyal) and Madinah (1·56bn riyal), while Saudi Oger will be responsible for Jeddah (2·90bn riyal) and King Abdullah Economic City in Rabigh (1·75bn riyal).
Engineering designs have been prepared by Foster + Partners and Buro Happold. According to SRO, the stations will be 'to the highest international standards and specifications', with 'aesthetically iconic' designs which take into account Islamic architectural traditions. The stations in Makkah and Madinah will be 'consistent with the religious dimension' of the holy cities.
In addition to arrival and departure concourses, shops, restaurants and cafes, the stations will feature mosques accommodating more than 600 people, civil defences stations, short and long term car parking, a helipad and VIP lounges. Connections to local public transport will include pedestrian links to proposed light rail services.
A fifth station is planned at King Abdul Aziz international airport in Jeddah.