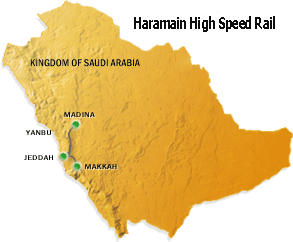 SAUDI ARABIA: A joint venture of Foster + Partners and Buro Happold has been appointed to design four stations for the 444 km Haramain High Speed Railway project.
The rapid three-year construction timescale has led to a modular approach to the design of the Makkah, Jeddah, King Abdullah Economic City and Madinah (Knowledge Economic City) stations, which will have a high degree of prefabrication. 'The innovative scalable modular approach to the design of the stations will enable the speedy delivery of high-quality station buildings - fast-track in every sense', said Martin Walsh, Project Director at Buro Happold.
The stations will share a common planning strategy, but each will have a distinct identity and building envelope. Public areas, including platforms, will be 'environmentally controlled', and will have filtered natural daylight throughout. The stations at Makkah and Madinah are required to be 'exceptional, iconic landmark buildings'.
Buro Happold has recently established a multi-disciplinary rail team headed by Tony Small, who joined from Pell Frischmann. Previous rail projects which Buro Happold has worked on include modernisation of Dublin Heuston and Dresden Hbf.