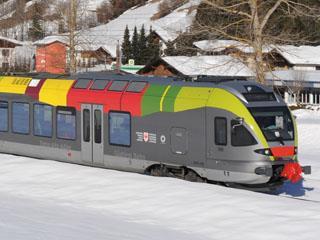 ITALY: South Tirol transport authority STA has exercised a €75m option for Stadler Rail to supply eight six-car Flirt electric multiple-units plus eight intermediate cars to lengthen its four existing four-car units to six cars.
Announcing the order on November 22, Stadler said this latest contract takes the total number of Flirts ordered worldwide to 707.
The new units will be similar to the four four-car and four six-car Flirt EMUs delivered in 2008, but with some interior improvements including more comfortable seats for a total of 260 passengers. They will be equipped for 3 kV DC operation in Italy and 15 kV 16·7 Hz in Austria, with a maximum speed of 160 km/h.
Delivery is scheduled for the second half of 2013.