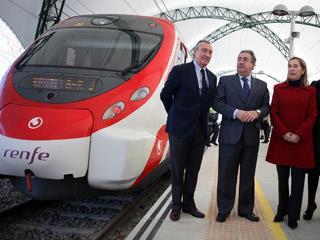 SPAIN: RENFE added a new route to its suburban network in Sevilla on February 20, when trains began operating every hour on route C2 between Santa Justa and La Cartuja.
Originally built for high speed services to the Expo 92 site, the La Cartuja branch has been upgraded by ADIF at a cost of €52·4m to provide 7·2 km of 1 668 mm gauge double track.
New stations have been provided at San Jerónimo, Estadio Olímpico and La Cartuja, and are the first on the Sevilla suburban network to be equipped with ticket gates. Station equipment including CCTV and public address is controlled remotely from a central facility.
According to demand studies, the branch serves a population of 45 000 inhabitants and has the potential to remove 483 000 cars from the roads every year. This would produce an annual saving in excess of €500 000 in external costs such as congestion, road accidents and environmental impact.
Meeting Mayor of Sevilla Juan Ignacio Zoido on February 22, Development Minister Ana Pastor outlined further suburban investment projects including an extension of route C2 southwards from La Cartuja to Los Remedios, an interchange at Pino Montano and enabling RENFE trains to serve Guadaira-Pablo Olavide at a cost of €7m.