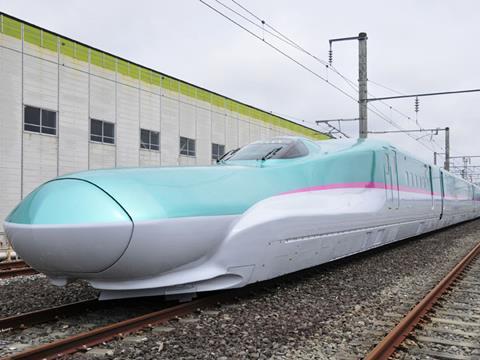 JAPAN: JR East launched revenue services on the final phase of the Tohoku Shinkansen on December 4.
The 81·8 km extension runs from Hachinohe to Shin-Aomori in mountainous northern Honshu, and includes the 26·5 km Hakkoda tunnel, the longest land bore on the Japanese rail network. The line features extensive snow mitigation measures, including a hot water spray system to melt snow.
Completion of the full 675 km route from Tokyo to Shin-Aomori comes 28 years after the opening of the initial Omiya - Morioka section in June 1982.
Services are being operated using Series E2 Hayate trainsets, with a journey time from Tokyo to Shin-Aomori of 3 h 20 min. The introduction of Series E5 Hayabusa trainsets capable of speeds up to 320 km/h will cut this to 3 h 5 min from March 2011.