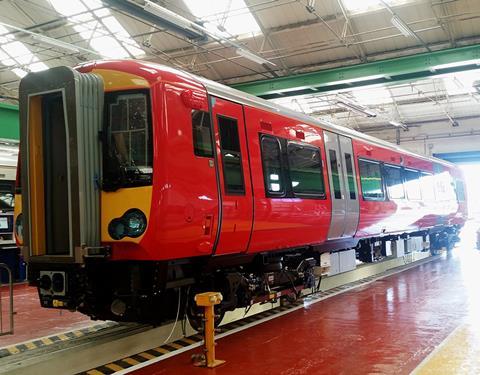 UK: On November 10 Rail Minister Claire Perry announced that an agreement had been reached by the government, Transport for London and train operator Govia Thameslink Railway which will enable passengers to use contactless bank cards and TfL's Oyster smart card on rail services between London and Gatwick Airport from January 2016.
The cards will be valid for pay-as-you-go travel on GTR's Southern, Gatwick Express and Thameslink branded services to Horley, Salfords, Earlswood, Redhill, Merstham and Gatwick Airport.
All existing peak and off-peak fares, advance fares, period fares and group ticket offers from Gatwick Airport will be maintained, including the Thameslink-only fares, and may be cheaper than pay-as-you-go. Platforms 13 and 14 at London Victoria are dedicated to Gatwick Express-branded services, and their ticket gates will be programmed to apply the premium fare for the airport shuttle.
'Gatwick's passengers will welcome the introduction of Oyster and contactless payments at the airport as the most convenient way to pay for onward rail travel to London', said Gatwick Airport's Chief Commercial Officer, Guy Stephenson. 'It means a single ticketless system will link Gatwick with the whole of Greater London so passengers can benefit from seamless connections to and throughout the capital.'
TfL says there are now more than 1 million contactless journeys a day on the London transport network, accounting for 1 in 10 contactless transactions in the UK. Nearly 25% of pay-as-you-go customers use contactless payment.
London – Gatwick Airport fares from January 2016
Service
Current fare, £
Pay-as-you-go, £
London Terminals – Gatwick Airport (not Gatwick Express)
15·40
14·00/8·00 (peak/off-peak)
Gatwick Express
19·90
19·80