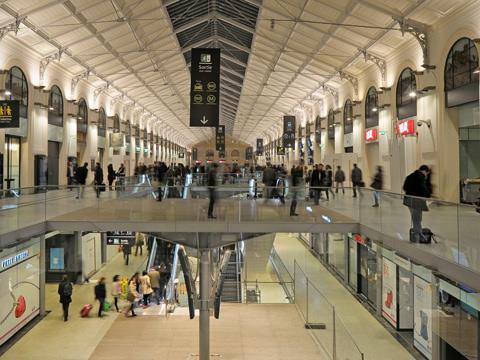 FRANCE: A day of celebrations including dancers, horseriders and art activities for children on March 21 marked the completion of a 10-year programme to refurbish Saint-Lazare station in Paris.
Undertaken at a total cost of €250m, this has been 'the largest station renovation project undertaken by SNCF for 15 years', according to Sophie Boissard who heads the stations division of the French national operator.
Property company Klépierre has invested €160m to build a three-storey shopping centre beneath the historic terminus, its 10 000 m2 of letting space now home to a Carrefour City supermarket and Virgin Megastore as well as 80 retail and catering outlets.
Used by 450 000 passengers a day, Saint-Lazare is the second-busiest station in Europe after Paris Nord, according to SNCF.
The national operator has invested €90m to improve interchange between its main line and suburban services, RER Line E and the six metro lines serving Saint-Lazare.
A total of 21 new escalators and lifts have been installed, as well as 300 passenger information screens and improved signage using the colours blue, yellow and green to distinguish between trains, station services and other transport modes.