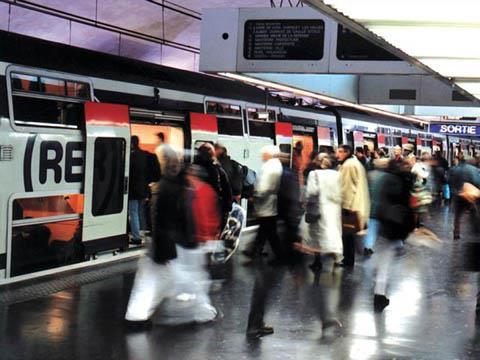 FRANCE: Meeting on March 17, the board of Réseau Ferré de France confirmed its intention to press ahead with its plans for a western extension of Paris RER Line E, with a view to seeking a Declaration of Public Utility giving powers to build the line.
Following public consultation between October and December 2010, RFF has decided to initiate detailed planning for its preferred option, and commission an environmental impact statement. A committee of experts is expected to complete its economic evaluation of the proposals this summer. RFF expects the formal enquiry for the DUP to take place in 2012, paving the way for the line to open in 2020.
The project envisages a westward extension of the cross-city tunnels from the current temporary terminus at Haussmann-Saint-Lazare to La Defense, parallelling and relieving the overloaded RER Line A. An intermediate station at Port Maillot would provide interchange with lines A and C plus metro Line 1. Provision will be made at La Defense for a future interchange with the proposed Grand Paris orbital automated metro ring.
Beyond La Defense, the new line would surface to serve a station at La Folie to serve the Groues urban development zone in Nanterre before crossing the Seine and joining the existing Transilien route from Saint-Lazare. This would be extensively upgraded over the 47 km from Nanterre to Mantes-la-Jolie via Poissy and Aubergenville.
RFF expects to take the project forward in close co-operation with Ile-de-France transport authority STIF and SNCF's Transilien business unit as operator of both Line E and the Saint-Lazare – Mantes route.