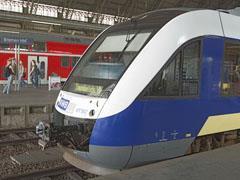 GERMANY: A 10-year contract to operate Weser-/Lammetalbahn passenger services was awarded to NordWestBahn by the Westfalen-Lippe and Niedersachsen transport authorities on February 3. NWB will take over from Keolis with the December timetable change, operating around 1·35 million train-km a year using 11 Lint 41 DMUs owned by Land transport authority LNVG.
On February 15 LNVG awarded Osthannoversche Eisenbahnen the Netz Heide-Kreuz contract covering 2·6 million train-km/year on the Buchholz – Hannover and Bremen – Uelzen routes for eight years from December. LNVG has 27 Alstom Lint 41 DMUs on order for €73m.
LNVG also selected Eisenbahnen und Verkehrsbetriebe Elbe-Weser for the Weser-Elbe-Netz contract. This runs for 10 years from December, and covers 1·32 million train-km/year from Bremerhaven to Buxtehude and Cuxhaven.
Rheinland-Pfalz Nord transport authority has directly awarded DB Regio contracts to operate Trier – Saarbrücken – Homburg and Trier – Türkismühle services for four years from December 2014. Luxembourg's CFL has signed a contract for the section of the Luxembourg – Trier service within Germany from December 2014 to December 2029, for which Stadler double-deck EMUs have been ordered.
Having received no other bids, Rhein-Main transport authority has negotiated a 15-year contract for DB Regio Hessen to operate Teilnetzes Niddertalbahn services from Frankfurt to Stockheim and Nidda from December 2012. Low-emission diesel locos will be introduced to haul Bombardier double-deck stock providing around 680000 train-km a year.l