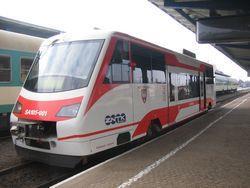 POLAND: Ownership of the state railway's regional passenger business PKP PR is to be transferred from the national to provincial governments under a restructuring programme which was approved by parliament on May 15.
Railway holding company PKP SA is to be paid 2·16bn zloty from the state budget to cover the costs of socially-desirable but commercially unviable passenger services which were operated by PKP PR but not paid for in 2001-04. An additional 1·86bn zloty loan will be provided to PKP SA, and then repaid to the treasury in the form of shares in PKP PR and infrastructure manager PKP PLK. This will leave PKP PR free of debts by the end of this year.
The treasury's shares in PKP PR will then be transferred to the voivodships, allocated in proportion to each region's size, population, length of railway and average train-km operated during the last three years.
The voivodships will be able to award PKP PR contracts to provide rail services according to local needs and financial capabilities, or award contracts to independent operators.
In readiness for the reform, responsibility for PKP's inter-regional services will be transferred from PKP PR to PKP Intercity this year. PKP Cargo locomotives which are used on passenger trains will be transferred to the two passenger businesses.
The Ministry of Infrastructure said the reforms will improve efficiency and help tailor services to local needs by combining the currently separate functions of planning, service specification, pricing and subsidy within a given region. Funding structures will also be more transparent.