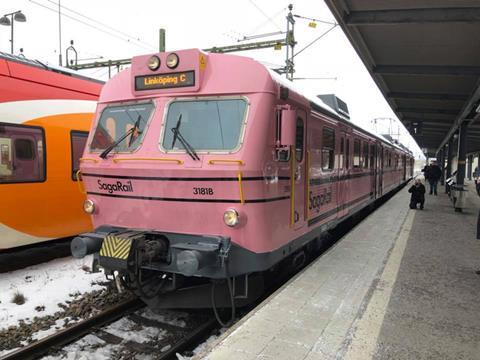 SWEDEN: Private open access company SagaRail ran its first service on February 23. The company is initially offering one return service between Stockholm and Linköping on Fridays and Sundays, running via Nyköping and Norrköping with a journey time of around 2 h.
SagaRail is the 'traffic organiser', and has awarded Tågab a contract to operate the service. A two-car Class X10 electric multiple-unit originally built for commuter traffic has been refurbished to 'a simple and straightforward design', fitted with a toilet and painted in a distinctive pink livery.
SagaRail Chairman Mats Nyblom told Railway Gazette that the company's target market is low-cost weekend traffic. Because demand is high on Fridays and Sundays, tickets sold by national operator SJ tend to be 'pretty expensive', he said.
SagaRail was set up by Nyblom and fellow board member Rolf Hansson as the principal investor. Nyblom said that they would like to have an external funder, but there as no need for this yet. The company has 'resources available' to run additional services or add further routes, with three unrefurbished X10 trainsets available for use if required, but for the moment 'we are being very careful and only taking very small steps', he said.