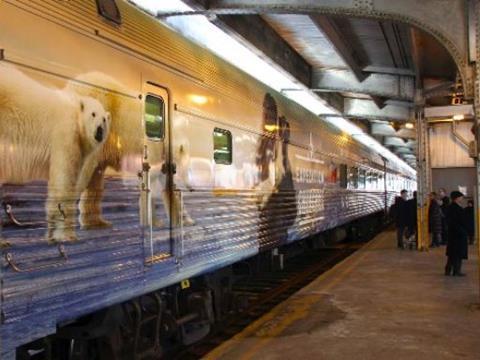 CANADA: The first VIA Rail passenger service for 18 months arrived at Churchill in northern Manitoba on December 4, having left Winnipeg two days earlier.
Following the arrival of a freight train on November 25, the occasion marked the reopening of the Hudson Bay Railway, which provides the only land route to the isolated port city. Operations on the 300 km Gillam – Churchill section had been suspended in May 2017 after severe flooding washed out the line in multiple places. This led to an increase in the cost of all products in Churchill, including food and fuel, as well as a drop in tourism.
After short line group OmniTRAX said it could not fund the estimated to C$40m to C$60m cost of repairing the line, the Canadian government announced in September 2018 an investment of C$117m which would enable the railway from The Pas to Churchill and associated port facilities to be acquired and repaired by the Arctic Gateway Group comprising the Missinippi Rail group of First Nations, investor Fairfax Financial Holdings and food company AGT.
With the reopening of the railway, VIA has restored the same timetable that had been operating before the suspension of services. There are two trains each way per week between Winnipeg and Churchill and a third between Churchill and The Pas. Journey time between Churchill and Winnipeg is approximately 45 h, although the first train arrived around 1 h late.
'We are very pleased to be able to once again offer passenger transport service throughout northern Manitoba', said VIA Rail President & CEO Yves Desjardins-Siciliano. 'The restoration of service will enable VIA Rail to continue to honour its commitment to remote communities, and enable those in northern Manitoba to hopefully return to a more normal life by being better connected, especially with the holiday season right around the corner. Moreover, the reopening of this Adventure route will satisfy visitors smitten by the vast landscapes of the area.'
Last month the government agreed to provide another C$3·8m to support the area served by the line. 'We know that nobody is more invested in the future of the Hudson Bay rail line than the people who live in Churchill', said Prime Minister Justin Trudeau, visiting the city on November 2 to mark completion of the repair work. 'We have committed millions of dollars over the next decade to ensure the ongoing operations of the line, and made significant investments to increase tourism, support skills training, and empower local businesses, which will bring long-term benefits to the people of Churchill and northern Manitoba.'