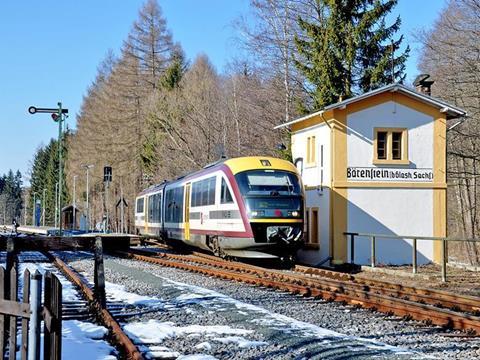 GERMANY: Oberelbe transport authority VVO has selected Transdev Regio as preferred bidder for an emergency contract to operate four passenger services in the Dresden area.
The services were previously provided by Städtebahn Sachsen, which ceased train operations on July 25 after a period of poor performance and financial difficulties. VVO terminated its contract after a 72 h period when no services ran, and the operator entered insolvency.
The train services were initially replaced by buses, but some have since been reinstated on a temporary basis under the supervision of the insolvency administrator.
Announced on September 16, the selection of Transdev as the replacement operator is subject to a standstill period. VVO hopes that the new operator will be able to take over within a few weeks, and the contract would then run to the end of 2021.
The bids for the emergency contract had varied significantly, VVO said. All required a higher subsidy than Städtebahn Sachsen's contract, which had been due to run for 10 years from 2014. VVO said this reflected the short duration of the replacement contract, and the cost of resolving the shortage of drivers and attendants which had affected the previous operator.
The contract covers diesel-operated routes RB33 Dresden – Königsbrück, RB34 Dresden – Kamenz, RB71 Pirna – Sebnitz and RB72 Heidenau – Altenberg, which would normally total 1·9 million train-km/year and carry 10 000 passengers/day.