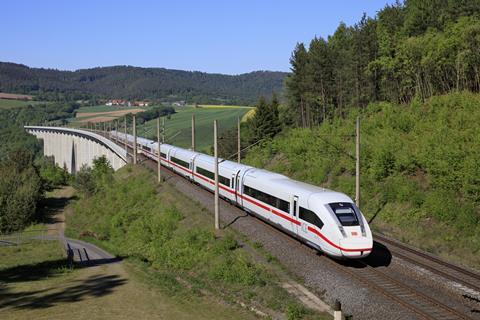 GERMANY: Rail spending is to be increased significantly as part of a €54bn package of measures to mitigate the effects of climate change, which was announced by Chancellor Angela Merkel on September 20.
In order to reduce the environmental impact of transport and encourage modal shift, the government has decided to reduce the rate of Value Added Tax on rail travel from 19% to 7% for all journeys of more than 50 km. Under the proposals put forward by Federal Transport Minister Andreas Scheuer and endorsed by Finance Minister Olaf Scholz, the tax cut will be funded by a matching increase in VAT on air travel.
DB immediately promised to pass on the whole of the reduction to its passengers, which CEO Richard Lutz said would equate to a 10% cut in fares, and also forego a planned increase. This would see the cheapest ICE journeys cut from €19·90 to €17·90, or €13·40 with a Bahncard discount. The railway expects the lower fares to increase ridership by around 5 million passengers/year, contributing towards its objective of doubling its annual long-distance ridership to 260 million.
300 km/h trainsets
To handle the extra traffic, DB announced that it would order a further 30 high speed trainsets suitable for 'at least' 300 km/h. In addition to the 74 ICE4 sets due to be delivered over the next three years, these would increase the ICE fleet from 282 trainsets to 386 by the end of 2022 and allow the operator to provide more than 13 000 additional seats per day.
As part of the climate change package, the government has committed to inject €1bn/year of additional equity into DB from 2020-30 in order to fund infrastructure modernisation and capacity enhancement works, along with further electrification to support decarbonisation.
Mixed reactions
While welcoming the announcement, rail lobby group Allianz pro Schiene said the government's policy remained vague. Managing Director Dirk Flege said the Climate Protection Program 2030 made no concrete commitments for rail comparable to those for road transport.
ApS pointed out that the coalition had shied away from abolishing the electricity tax and renewable energy levy, which put rail at a significant competitive disadvantage against other modes. However, Flege welcomed the decision that annual reduction targets for the transport sector should be set by law, which over time would increase the pressure to meet commitments on reducing greenhouse gas emissions.
New entrants' association AllRail described the announcement as a 'dark day' for the sector, warning that providing extra support for DB under the guise of tackling climate change would only serve to raise barriers to entry for newcomers. It believed that the best way to achieve modal shift would be to introduce further competition to the rail market.