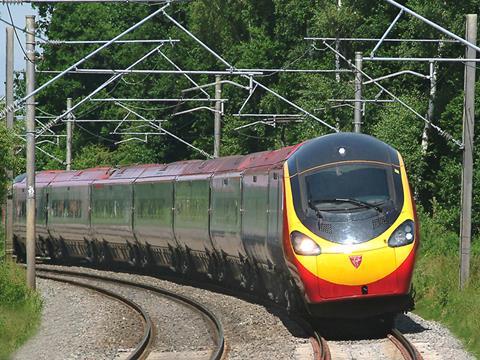 UK: Virgin Rail Group announced on June 7 that it was taking action against infrastructure company Network Rail over 'sustained poor performance' which has affected the punctuality of services operated by its Virgin Trains subsidiary on the West Coast Main Line. The matter is to be referred to the industry's Access Disputes Committee, and VRG hopes that any penalties can be paid in the form of 'customer improvements' rather than fines.
'Network Rail has consistently failed to deliver what it is contracted to deliver', said VRG CEO Tony Collins. 'That has directly affected customers' experience, and their impression of rail travel. So any penalties levied on Network Rail should be in the form of tangible improvements that customers benefit from. There is really no benefit to Network Rail, customers or VRG in having money leave the industry'.
VRG says that Network Rail has missed its agreed performance targets over the last two years, with Virgin Trains' punctuality score for the four-week period to May 25 standing at 85⋅7% against a target of 88% of services arriving within 10 min of schedule. 'More than 70% of delays are a result of Network Rail infrastructure issues', according to VRG, with less than 15% caused by Virgin Trains itself.
'We have spent hundreds of millions of pounds on a fleet of reliable trains and we pay Network Rail nearly £200m a year to maintain the West Coast Main Line for us', said Collins. 'We feel that we are not getting value for money in this respect and our customers have been let down and deserve more consistency. We have made our case strongly over many years to Network Rail, ORR and government. But reluctantly we have taken this difficult decision on behalf of our customers'.