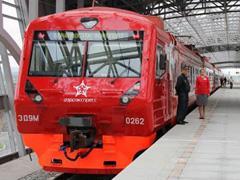 RUSSIA: Airport shuttle operator Aeroexpress launched a passenger service between Vladivostok and the city's international airport at Knevichi on July 20.
The project has involved the construction of a 4 km link to a new station at the airport, as well as upgrading existing track, electrification equipment and stations.
Services are operated using six-car ED9M electric multiple-units supplied by TMH's Demikhovsky Engineering Plant. The EMUs have a total of 475 seats in one business, two standard and three suburban cars, with onboard amenities include audio-visual information, wi-fi and folding wheelchair ramps.
Trains currently run every 2 h, with a 55 min journey time and intermediate stops at Vtoraja Rechka and Ugolnaja. From September 1 services will run hourly, with journey times reduced to 48 min.
Vladivostok is the third Russian city where Aeroexpress operates an airport rail link, following the launch of services to Moscow's Sheremetyevo, Vnukovo and Domodedovo airports from 2008 and in Sochi in February this year.