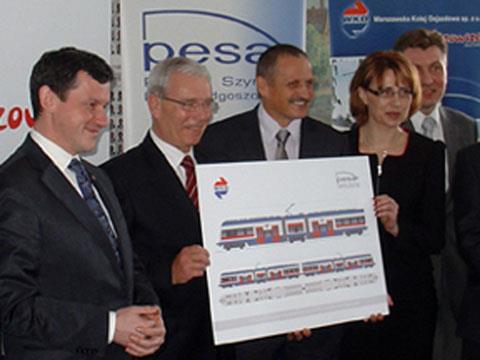 POLAND: Pesa signed a 281·8m złoty contract with suburban operator Warszawska Kolej Dojazdowa on March 26 to supply 14 electric multiple-units for the Warszawa - Grodzisk Mazowiecki line.

The specification had been changed for the second round of tendering from one long single unit to a pair of shorter units. The first train will be delivered at the end of 2011 and the last is due in the third quarter of 2012. Their purchase will allow WKD to withdraw the last of its EN94 units dating from the 1960s.

The new trainsets will be 60 m long and 2 850 mm wide, formed from two low-floor articulated cars, with a 500 mm floor height above rail level in the entrance areas and a maximum capacity of 500 passengers. The wheel arrangement is Bo'-2'-Bo'+Bo'-2'-Bo'; the cars will be fitted with asynchronous traction motors and have a maximum speed of 80 km/h.

The vehicles are designed to take power at 3 kV DC but will initially operate on 600 V DC. As part of a process to modernise the Warszawa - Grodzisk Mazowiecki line, the catenary has been upgraded for future conversion to 3 kV but this cannot be implemented until all of the older rolling stock has been withdrawn.