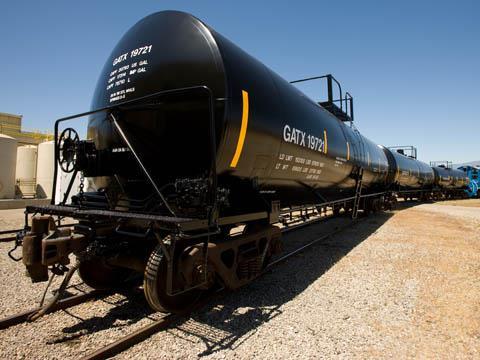 NORTH AMERICA: Electronically-controlled pneumatic braking will be required on unit trains carrying high-hazard flammable materials after January 2021, under a new rule announced in Washington DC on May 1 by US Transportation Secretary Anthony Foxx and Canadian Transport Minister Lisa Raitt. Other measures to improve safety include enhanced construction standards for tank cars carrying crude oil or ethanol and an 'aggressive, risk-based schedule' for the retrofitting or withdrawal of older vehicles.
Developed by the US Pipeline & Hazardous Materials Safety Administration and Federal Railroad Administration in co-ordination with Transport Canada, the new rule addresses various recommendations from the National Transportation Safety Board and the Transportation Safety Board of Canada. It is the latest in a series of almost 30 measures taken by the US Department of Transportation to improve the safety of trains carrying hazardous materials following the derailment and fire at Lac-Mégantic, Québec, in July 2013 and a string of subsequent incidents.
The rule applies to any 'high-hazard flammable train', which is defined as one with 'a continuous block of 20 or more tank cars loaded with a flammable liquid or 35 or more tank cars loaded with a flammable liquid dispersed through a train'.
Vehicles constructed after October 1 2015, will be required to meet the new DOT-117 specification. The criteria include a stronger tank shell and protective jacket, full-height head shields, thermal protection, and improved pressure relief and bottom outlet valves. A schedule has been set out for retrofitting existing vehicles 'with the same key components'. DOT-111 tank cars will no longer be permitted to carry flammable materials in Packing Group I after May 2017, while non-jacketed cars built to the later CPC-1232 standard must be withdrawn or retrofitted by 2020.
DOT is also calling for enhanced braking to mitigate damage in derailments, requiring all HHF trains to be fitted with 'a functioning two-way end-of-train device or a distributed-power braking system.' Unit trains of 70 cars or more including some carrying materials in Packing Group I must be operated with ECP brakes from January 1 2021, and all other HHF unit trains must have ECP braking from 2023.
New operating rules will restrict all HHF trains to a maximum speed of 80 km/h, while any cars not meeting the enhanced standards will be restricted to 65 km/h in 'high-threat urban areas', as currently required by an FRA Emergency Order. Railroads will be expected to undertake a 'more robust' risk assessment when analysing and selecting routes, considering 27 safety and security factors, including track quality, gradient and curvature. They must also provide a dedicated 'point of contact' for state and regional authorities to obtain information about hazardous movements in their area.
Shippers will be expected to develop improved sampling and testing programmes for unrefined petroleum-based products, in order to improve the classification of such loads and ensure they are correctly packaged for transport.
'Safety has been our top priority at every step in the process' said Foxx, adding that the new rule was a 'significant improvement over the current regulations and requirements'. He said the close collaboration with Canada 'is recognition that the trains moving unprecedented amounts of crude by rail are not US or Canadian tank cars – they are part of a North American fleet and a shared safety challenge'. Raitt said the 'harmonised solution' had been achieved 'through strong collaboration', which she hoped would 'be a model for future Canada-US partnership on transportation issues.'
NTSB Chairman Christopher Hart welcomed the rule as 'a significant step towards improving the safety of transporting crude oil and ethanol by rail'. FRA acting Administrator Sarah Feinberg said it 'signals the beginning of the next chapter in rail safety'. Tank car manufacturers such as Trinity Industries and The Greenbrier Cos welcomed the 'meaningful enhancements' to the vehicle standards, although the American Fuel & Petrochemical Manufacturers association felt that 'this aggressive retrofit schedule is unrealistic and may be disruptive'.
While the Association of American Railroads and Railway Association of Canada welcomed the new vehicle standards, both expressed reservations about the braking requirement. Pointing out that ECP brakes would only work if all vehicles in a train were equipped, RAC warned that the distinction between unit and mixed trains could have 'adverse effects on network fluidity'. It argued that the 'marginal safety benefit must be weighed against the considerable operating challenge'.
AAR President Ed Hamberger said 'unjustified regulations such as this trigger a reallocation of investments that will not generate the kind of safety benefit the industry and the public expect.' Calling for 'attention and resources' to be allocated 'to addressing the underlying causes of rail accidents', he said 'ECP brakes simply aren't on that list'.