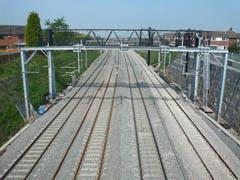 UK: A rolling programme of electrification is at the centre of the High Level Output Specification which sets out the government's strategic plans for rail investment in 2014-19.
The HLOS published on July 16 covers projects planned for Control Period 5, which runs from April 1 2014 to March 31 2019. It includes £5·2bn of schemes which are already committed, including Crossrail, Thameslink and electrification of the London - Cardiff, Manchester - Liverpool/Preston, and Manchester - York routes.
New schemes totalling £4·2bn envisage the electrification of the Midland Main Line as part of a high-capacity 'electric spine' passenger and freight route from Yorkshire and the West Midlands to Southampton.
Routes to be electrified at 25 kV 50 Hz as part of the electric spine are:
Southampton port - Basingstoke;
Basingstoke - Reading;
Oxford - Leamington - Coventry;
Coventry - Nuneaton;
Oxford - Bletchley - Bedford;
Bedford - Nottingham/Derby;
Derby - Sheffield;
Kettering - Corby;
The government hopes this will encourage private investment in electric freight locomotives. Completion will enable further electrification in the 2019-24 Control Period 6.
Conversion of the Basingstoke - Southampton route from 750 V DC third rail to overhead electrification will 'test the business case for the wider conversion of the third rail network south of the Thames'.
Electrification of the Walsall and Rugeley Trent Valley line is planned as it offers 'regional and strategic value'.
The previously-announced Great Western electrification from London to Cardiff will be extended to Swansea, taking the total value of the project to more than £600m. The Valley Lines network in South Wales will be electrified, enabling the deployment of a new fleet of electric trains on local services.
The government also wishes to electrify the Acton - Willesden freight line, and the Windsor, Marlow and Henley-on-Thames branches. It has also announced support for £500m rail link between Slough and Heathrow airport, subject to a satisfactory business case, with completion planned for CP6.
The Northern Hub project will be completed in full, with the approval of £322m of track and capacity upgrades across Manchester city centre, Manchester Airport and across to Liverpool. The Micklefield - Selby line will be electrified. This is in addition to £477m of Northern Hub schemes already approved.
There will be capacity enhancement projects in cities including London Birmingham, Leeds and Manchester, and £240m of improvements along the East Coast Main Line.
The HLOS package will be funded in part from fare rises announced in 2010 and also from the 'substantial efficiency savings' expected from electrification.
The Office of Rail Regulation must now reconcile the government's objectives in the HLOS with the funding allocated in the parallel Statement of Funds Available, in order to determine the industry's financial framework for CP5.