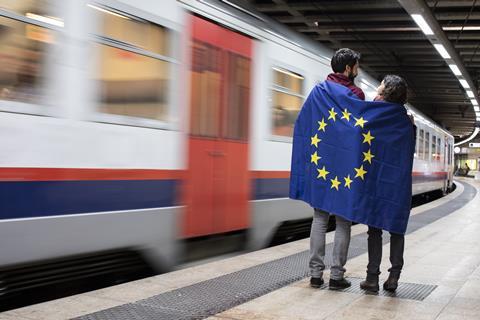 EUROPE: A regulation permitting European Union member states to waive or defer track access charges in order to support the rail sector through the coronavirus pandemic has been formally adopted by the EU Council and European Parliament.
Published on October 7, Regulation 2020/1429 acknowledges that the Covid-19 outbreak 'has brought about a sharp drop in demand for rail transport services'. This has had 'a serious impact on railway undertakings' since the beginning of March, which is likely to last until at least the end of 2020. While the circumstances are beyond the railways' control, some operators are facing 'considerable liquidity problems and major losses, and in some cases a risk of insolvency'.
In order to provide extraordinary financial support to the rail sector on a transparent and non-discriminatory basis, the European Commission proposed that infrastructure managers should be authorised 'to reduce, waive or defer', the track access charges that are mandated under Directive 2012/34 establishing the Single European Railway Area. The plan was endorsed by the European Parliament on July 16 and the Council on October 2.
Under normal conditions, track access charges for both passenger and freight operators should not fall below the costs directly incurred as a result of the train services being operated. Infrastructure managers are also able to levy mark-ups on profitable market segments and path reservation charges to optimise the use of capacity, which may also have become inappropriate under current circumstances.
Recognising that the waiving of charges would result in losses for the infrastructure managers, the regulation provides for member state governments to compensate them by the end of 2021. However, this does not over-ride the obligation for member states to ensure that infrastructure managers must balance their books over a 'reasonable period' not exceeding five years.
While the initial 'reference period' for the relaxation of access charges runs to December 31 2020, the European Commission is given powers to extend that period for as long as necessary, 'if the adverse conditions persist'.
Publication of the regulation was welcomed by the Community of European Railways & Infrastructure Managers. Urging member state governments 'to make good use of it, CER described the offer of rebates as an 'important tool' to boost the rail sector through the Covid-19 crisis, and contribute to 'climate neutral EU mobility'.