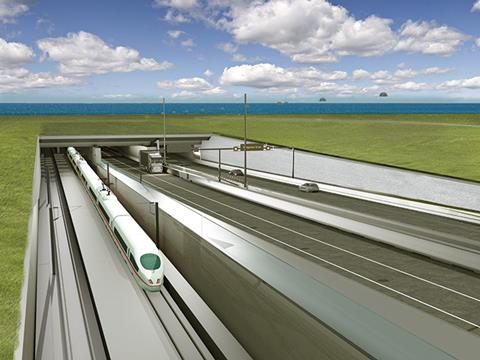 EUROPE: The European Commission has concluded that Denmark's public financing model for the Fehmarn Belt rail and road tunnel to Germany is compatible with EU state aid rules.
The Commission had approved the model in July 2015, but ferry companies Scandlines and Stena Line subsequently appealed. In December 2018 the General Court partially annulled the Commission's decision because it had not undertaken a formal investigation before approval.
The Commission opened an in-depth investigation in June 2019, which confirmed that the project qualified as an Important Project of Common European Interest, justifying state aid.
Following discussions, the Danish authorities implemented some changes to the financing structure. These included limiting the use of state guarantees and loans to a maximum of €9·3bn and to the first 16 years of operation, rather than 55 as originally planned.
Based on updated figures and these changes, the Commission concluded that the public support was proportionate, necessary and in-line with EU state aid rules.
'The fixed link will contribute to the cross-border integration of the two regions it will connect', said Vice-President in charge of competition policy Margrethe Vestager on March 20. 'We concluded that the Danish measures to support this project of common European interest are in line with EU state aid rules, as the positive effects of the project clearly outweigh any potential distortion of competition.'
Scandlines said it welcomed the clarification and the limits on public support. 'We look forward to reading the approval in its entirety, but we can see that we have succeeded in the main complaints', said CEO Søren Poulsgaard Jensen.