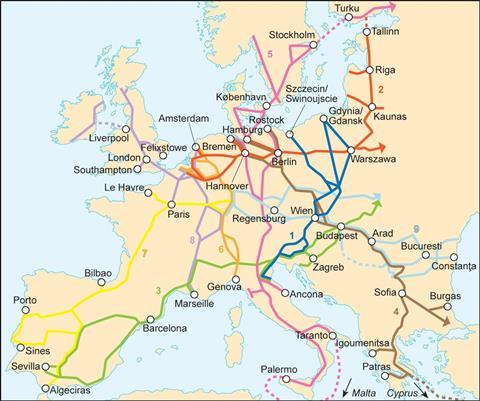 EUROPE: The European Commission has announced details of 'the most radical overhaul of EU infrastructure policy since its inception in the 1980s', setting out plans to shift the focus of future transport infrastructure investment from individual projects to nine defined trans-European corridors.
This focus on major corridors announced on October 17 aims to remove bottlenecks, upgrade infrastructure and streamline cross-border passenger and freight movement to turn Europe's existing patchwork of roads, railways, airports and canals into a 'genuinely European' unified trans-European transport network.
The core TEN-T network of two major north–south, three east–west and four diagonal corridors to be completed by 2030 would be supported by a 'comprehensive network' of regional and national routes to be developed by national and regional authorities.
The cost of implementing the first phase of the core network in the EU's 2014-20 budget period is estimated at €250bn. EU financing for transport infrastructure would triple to €26bn in 2014-20, with this seed capital intended to stimulate investment by member states and the private sector to complete 'difficult' cross-border connections and links which might not otherwise get built. East–west connections are a priority, with €11·3bn ring-fenced for cohesion countries.
'Corridor platforms' will be created for each TEN-T corridor, bringing together stakeholders to co-ordinate work and prevent technical divergence. New TEN-T guidelines will be more specific than previously, with ERTMS being a priority, so that by 2050 large parts of the comprehensive network would be fully interoperable
Core TEN-T network corridors

Corridor
Route
1.
Baltic-Adriatic: includes the Semmering base tunnel and Koralmbahn.
2.
North Sea-Baltic: the most important element of this corridor is Rail Baltica.
3.
Mediterranean: rail projects include Lyon – Torino and Venezia – Ljubljana.
4.
Orient/East-Med.
5.
Scandinavian-Mediterranean: includes Fehmarn Belt fixed link and Brenner base tunnel.
6.
Rhine-Alpine: includes Swiss base tunnels and access routes in Germany and Italy.
7.
Atlantic: includes high speed and conventional rail.
8.
North Sea-Mediterranean.
9.
Rhine-Danube Corridor.
The core network will connect 94 major ports with rail and road links and provide 38 key airports with rail links to major cities. It includes 15 000 km of upgraded railway and 35 cross-border projects to reduce bottlenecks.