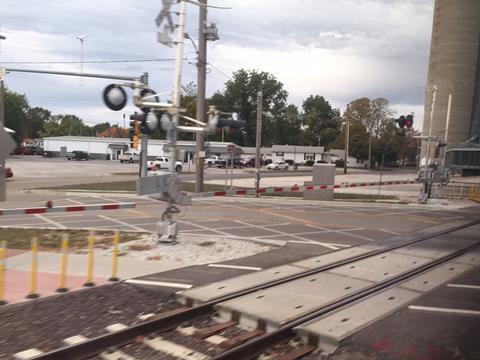 INTERNATIONAL: Railways and transport authorities in 40 countries around the world are participating in the eighth International Level Crossing Awareness Day, which takes place on June 10.
Co-ordinated by the International Union of Railways, this year's event kicks off with an international conference in Riga, hosted by Latvia's national railway LDz. This will be followed on June 11 by a technical visit to Tallinn organised by Operation Lifesaver Estonia.
According to UIC, there are around 600 000 level crossings in the world, including 213 000 in the USA and 113 000 in Europe. There were 555 level crossing collisions in Europe in 2012, accounting for 322 fatalities and 364 serious injuries. Level crossings account for more than 25% of all railway fatalities in Europe, but barely 1% of road fatalities.
As with previous ILCAD events, the partner organisations have decided to focus on a specific aspect of level crossing safety. This year the focus will be on senior citizens and people with sensory and mobility restrictions, using the slogan 'do not overestimate your abilities near railway tracks'. UIC says this reflects an increasing number of level crossing accidents involving older people.
A recent report from the US Census Bureau estimates that the number of people over 65 will more than double from around 600 million today to 1·6 billion by 2050. Available statistics from various countries (mainly in Europe) show that senior citizens are involved in around 18% of level crossing incidents and account for 38% of all fatalities.
As with other road users, senior citizens 'may take wrong decisions, either by error or deliberately'. ILCAD highlights examples of 'misbehaviour' which can be linked to habit or age-related problems such as poor sight or hearing, as well as people overestimating their abilities. This may lead them to act recklessly, potentially leading to severe injuries or loss of life.
To support the campaign, UIC and LDz have produced posters and a video for both internet and television broadcasts, emphasising how level crossing misuse can put at risk the lives of others road users, railway staff and passengers. Whilst the communication materials were developed with senior citizens in mind, UIC says they 'will be useful as a reminder to all other level crossing users and particularly people with restricted mobility'.
Director General Jean-Pierre Loubinoux said UIC was 'proud to bring together about 40 countries to participate in this global event', which as well as focusing on level crossing safety 'will also make the most of the opportunity to raise public awareness of other dangers, such as crossing railway lines where it is strictly forbidden to do so, or safety on station platforms'.
ILCAD 2016 participants
Argentina
Australia
Austria
Belgium
Bulgaria
Cameroon
Canada
Croatia
Czech Republic
Estonia
Finland
France
Greece
Hungary
India
Ireland
Israel
Italy
Japan
Kenya
Latvia
Lithuania
Luxembourg
Mongolia
Morocco
Netherlands
New Zealand
Norway
Poland
Portugal
Romania
Russia
Serbia
Slovakia
Slovenia
Spain
Sweden
Switzerland
Tanzania
Turkey
USA
UK
<noscript>[<a href="http://storify.com/railwaygazette/international-level-crossing-awareness-day-2016" target="_blank">View the story " International Level Crossing Awareness Day 2016" on Storify</a>]</noscript>