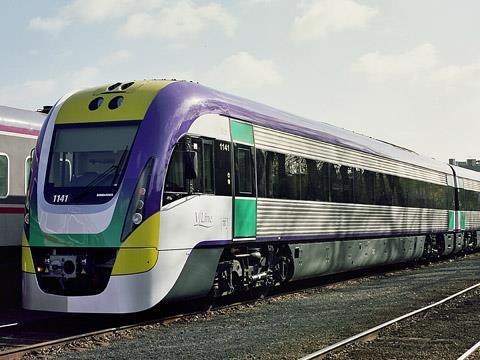 AUSTRALIA: An ambitious transport blueprint designed to secure Melbourne's position as one of the world's most liveable cities in the face of rapid population growth was launched at the RMIT Centre for Urban Research on September 5.
Launched by former Deputy Prime Minister of Australia Tim Fischer, the report entitled Intercity: How regional rail can rebalance population growth and create a 'State of Cities' in Victoria has been prepared by the Rail Futures Institute, a transport think tank established in 2013.
Noting that Victoria's population is predicted to grow to more than 10 million by 2051, with 8 million people living in Melbourne alone, the institute suggests that there is an urgent need to re-balance the population between the city and its surrounding regions. It calls for a decentralisation programme based on improved rail services, citing French experience following the construction of the TGV network.
The report proposes faster, more regular train services between Melbourne and major regional centres, using tracks segregated from the Metro Trains suburban network. Also proposed are a major rail hub at Melbourne Airport with provision for an airport shuttle, and high speed services on selected routes. Service reliability would be improved through investment in more robust infrastructure, new rolling stock and more proficient engineering management.
Launching the report, Fischer noted that the pace of Melbourne's population growth was producing unparalleled congestion on city roads, particularly on Saturday mornings. He applauded the report for its 'bold, practical and realistic' approach, based on a phased programme for building the transport infrastructure necessary to redress the population imbalance between the city and the regions. Segregating the Intercity network would prevent regional trains from being pathed behind 'all-stations' stopping trains on the urban network, 'fouling the timetable' and increasing frustration for regional commuters.
To this end, Fischer was critical of the 'completely avoidable' decision to eliminate the planned flyover at the junction of the recently-opened Regional Rail Link with the Ballarat line near Deer Park. He urged the Victoria state government to preserve the necessary rail corridors, thinking strategically and 'a long way ahead'.