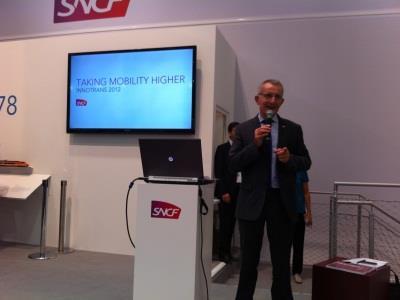 INNOTRANS: 'Our role as a business has changed dramatically', said SNCF President Guillaume Pepy, speaking at InnoTrans 2012 on September 18. Noting that the state-owned railway was becoming 'a major player for global mobility services', he revealed that direct train operations now accounted for just 50% of SNCF's turnover, alongside the Geodis logistics arm and Keolis in the public transport sector.
Recognising the need for better information amongst politicians and decision-makers, Pepy announced that SNCF had teamed up with the Genève-based publication The Global Journal to try and assess the relationship between transport provision, economic prosperity and employment in different countries. He hoped the new Mobility Index would act as a 'key lever' to encourage investment in sustainable transport infrastructure, even in the current difficult economic climate.
The study was undertaken by the former Managing Director of the World Economic Forum, André Schneider, in conjunction with a panel of experts. The consultants identified 66 countries with sufficient verifiable data to include in the study. The index looks at four key areas:
how dependent each country is on transport for the import and export of goods;
the evolution of population, in terms of age, demographics and geographical distribution;
trends in CO2 emissions from transport in the past decade, as a proportion of the country total;
the absolute level of investment in rail, road, air and sea, and the proportion allocated to 'sustainable' modes such as rail and inland waterways.
In terms of initial results, the index suggests that 21 out of the 66 countries face the prospect of future GDP being constrained by the availability of transport, whilst countries with ageing populations face significant changes in the demand for transport. Worryingly, 58 countries had seen an increase in CO2 emissions from transport, including almost all EU member states and all of the BRICS economies, despite public commitments to reduce greenhouse gas emissions. The consultants also felt that most countries were 'under-investing in transport', and in particular in the more sustainable modes.
SNCF's Head of Communications Patrick Ropert said the survey was 'not looking for solutions, but to launch the debate'. He welcomed feedback on the initial data, which would enhance the value of the index in future years.