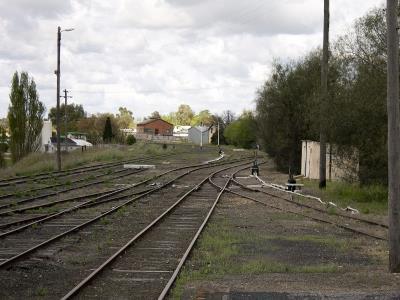 AUSTRALIA: The government of New South Wales has invited registrations of interest from private-sector groups to restore, operate and maintain the 200 km Cowra Lines between Blayney and Demondrille, on which services have been suspended since 2007. The project is seen as a pilot scheme that could pave the way for revival of other rural railways across the state.
The north-south line connects Blayney on the western main line between Sydney and Parkes with Harden on the route towards Albury and Melbourne. A branch from Koorawatha runs west to Greenethorpe. Minister for Roads & Ports Duncan Gay said the routes had been closed due to 'poor co-ordination between asset managers, high operating costs and low freight volumes', but there had been widespread support from local councils for reopening. In July the NSW government signed a memorandum of understanding with the Blayney, Cowra, Harden, Weddin and Young shire councils to investigate how the regulatory and operating model for the lines could be improved.
Transport for NSW has given 'suitably qualified parties' until October 4 to register their interest in restoring, maintaining and operating the two lines 'on a commercially sustainable basis under a fixed-term licence'.
'The NSW government is committed to ensuring rural and regional rail and road infrastructure – like the Cowra Lines – is connected to provide a high-performance transport network to drive economic growth', insisted Gay, adding that it had 'listened to and acted on the calls of Central West councils and businesses for the government to work closely with the private sector to gauge interest and investigate if the Cowra Lines can be reopened'.
He said that council involvement would be essential to ensure that the local road network connected efficiently with intermodal terminals, so that regional businesses and primary producers could move their goods to market more efficiently by rail. 'The Cowra Lines project is an important and innovative pilot that could help pave the way for other parts of the state's rail and road freight and transport network', the minister explained.