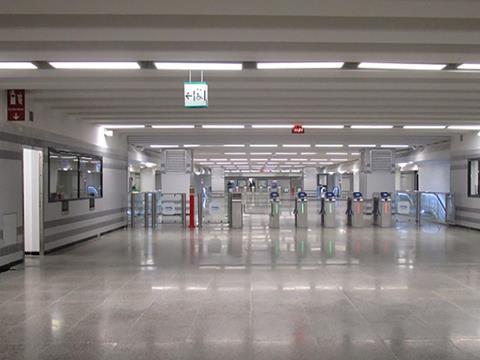 ALGERIA: The single metro line in Alger has been extended at each end, with the official opening by President Abdelaziz Boutefli on April 9 of a 1·7 km extension from Tafourah-Grande Poste to Place des Martyrs and a 3·7 km branch from Haï El Badr to Ain Naadja. Revenue services began the following day.
Construction of the Place des Martyrs extension began in 2009 and had been scheduled to take 42 months; in the event, the work was delayed by extensive archaeological excavations. An intermediate station at Ali Boumendjel is to open at a later date.
Work on the Ain Naadja branch began in 2010. It includes a 1·4 km elevated section and 2·3 km in tunnel, with intermediate stations at Les Ateliers and Gué De Constantine which are not yet completed.
The metro line is now 18·5 km long. It is currently operated with a fleet of 14 CAF six-car trainsets, and 12 CAF Inneo trainsets were ordered last year.
A 9 km extension from El Harrach to the airport is under construction for opening in 2021.