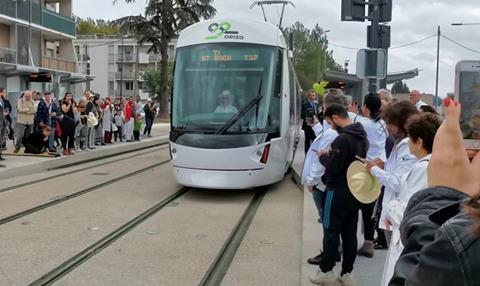 FRANCE: The initial section of the Avignon tramway was inaugurated on October 19 with a day of free travel.
The 5·2 km route T1 runs east from Saint-Roch Université des Métiers to Gare Centre, then south along Avenue Saint-Ruf and Avenue de Tarascon, before turning east again to reach Saint-Chamand Plaine des Sports, where the depot is located. There are 10 stops and the end-to-end journey time is 15 min.
The city's first-generation metre-gauge tramway closed in 1932. In September 2010 the city authorities approved a plan to build a standard-gauge tramway, but this was cancelled in 2014. A scaled-back version was approved in January 2015 and preliminary works began in October 2016. In May 2017 a contract was signed with a TSO-led consortium including Alstom, Guintoli, EHTP and Agilis.
The total value of the project is €135m. The tramway is owned by the Grand Avignon local authority, and managed and operated by Orizo. Services run every 6 min.
Alstom is suppling a fleet of Citadis X05 trams, the first of which was delivered in December 2018, ahead of test running that started the following month. Four vehicles are being delivered for the future route T2, with the remaining 10 to be used on route T1.
The bidirectional three-section trams are 24 m long with capacity for 140 passengers. The 100% low-floor vehicles are equipped with LED lighting, air-conditioning and CCTV. The fleet is being assembled at Alstom's La Rochelle factory, with components coming from other Alstom sites in France.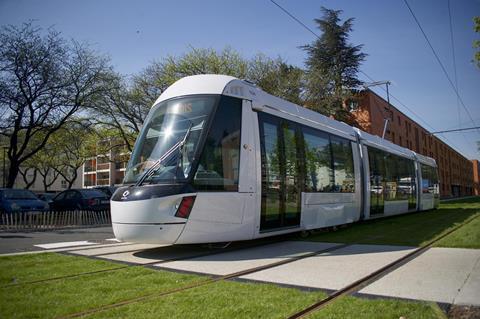 Expansion plans
A second route is in the planning phase, the city authorities having granted approval in March 2018. Work on T2 is expected to begin in 2021 for opening two years later.
T2 would run for 3·2 km from Île Piot to Saint-Lazare Université Arendt, serving seven stops. It would use the Gare Centre – Saint-Roch Université des Métiers section that is currently operated as the western end of route T1; a 300 m extension of T1 from Gare Centre to Jean Jaurès would open at the same time. Services on T2 would run every 6½ min.
Longer-terms plans envisage an extension of T1 from Jean Jaurès to Place de l'Horloge in the city centre. T2 would be extended from Saint-Lazare Université Arendt to the former Gare du Pontet railway station, which would be reopened. A branch to Zone Commerciale de Réalpanier is also planned, where a second depot is to be built. Once both branches are open, services to Le Pontet would be designated T2a and those to Réalpanier T2b.