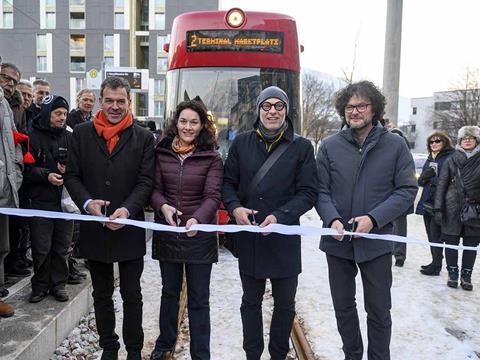 AUSTRIA: Trams began serving the Olympisches Dorf area of Innsbruck on January 26, following a ceremonial opening of an extension the previous day.
The 4·3 km branch between Leipziger Platz and Josef-Kerschbuamer-Straße has 12 stops and is operated by routes 2 and 5. It includes a new bridge over the River Inn, and has increased capacity by 40% compared with the bus route that previously served Olympisches Dorf.
The €290m project cost was financed jointly by the city and the Land of Tirol. It forms part of the Regionalbahn project to expand the tram network. Further phases include a 1·2 km branch from Schützenstraße on the new line to Rum, and a 2·2 km extension at the other end of the city from Technik West to Völs. Both of these are scheduled to open in 2021.