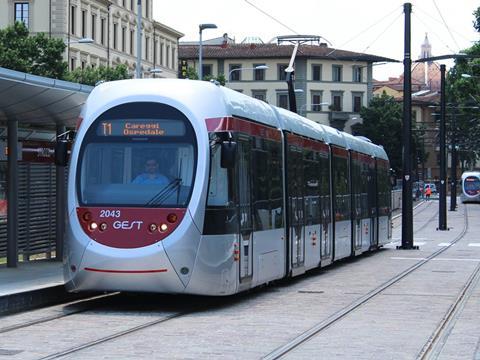 ITALY: Opening of Firenze tram line T2 is now expected in November, after the President of the design-build-operate concessionaire confirmed that work would not be completed at the end of August as planned.
Tram di Firenze President Fabrizio Bartaloni confirmed that work is expected to be completed by September 17, which would allow test running to commence on the whole line. Test running has been underway at the northern end of the route between Peretola Airport and San Donato since the end of March.
T2 will serve 13 stops on a 5·3 km alignment between Piazza dell'Unità d'Italia in the city centre and Peretola Airport in the northwest. Hitachi Rail Italy delivered 22 five-section bidirectional Sirio trams to operate the route in November 2016. Work is due to begin next year on extensions at both ends of the route.
Work is also scheduled to begin next year on the first section of line T4, after the Ministry of Infrastructure & Transport allocated €47m, taking its total funding to €166m.
When complete, T4 would link Campi Bisenzio in the west and Porta al Prato railway station on a 12 km alignment. The section between Porta al Prato and Le Piagge would use an existing railway alignment, which RFI is handing over to Firenze municipality under a contract signed in 2011.
The second section would use a new alignment between Le Piagge and Campi Bisenzio. Systra is the design contractor and construction would begin once the estimated €260m is allocated.